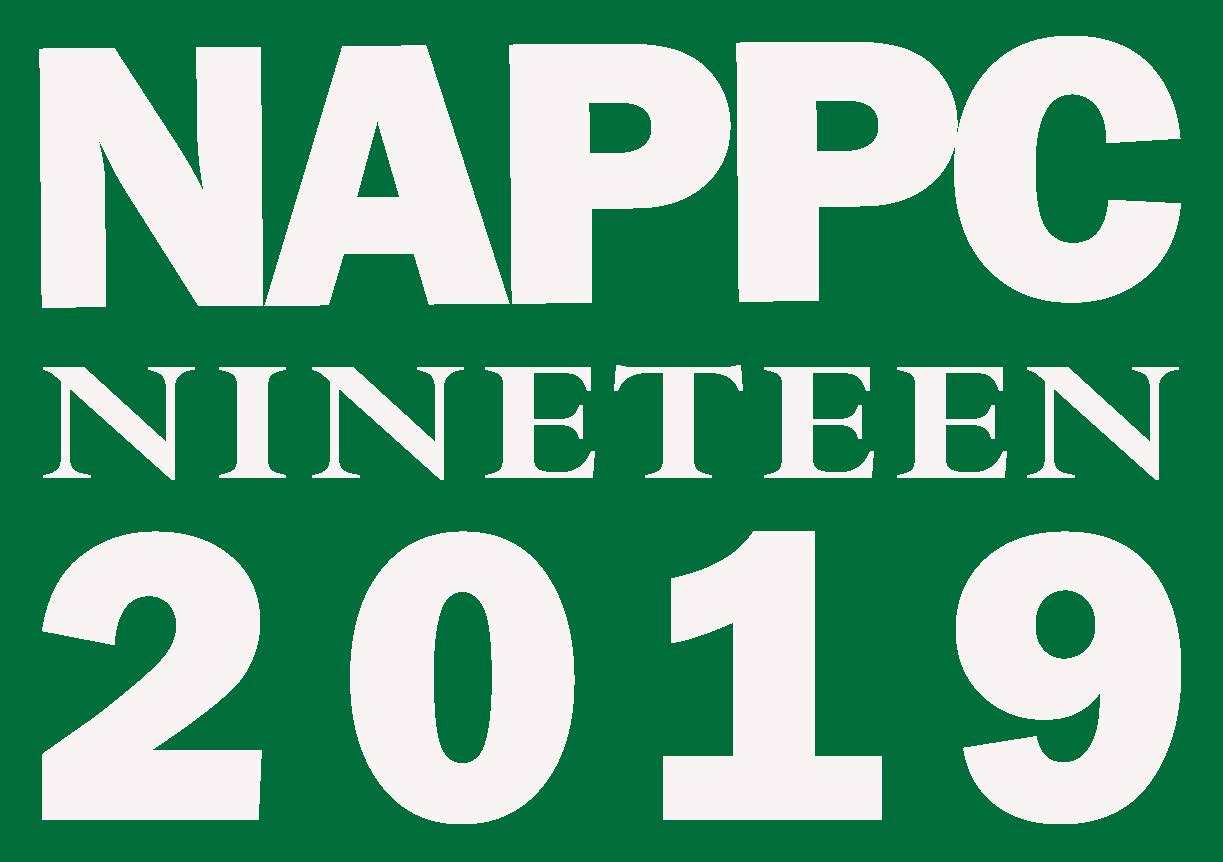 19TH ANNUAL NAPPC
INTERNATIONAL CONFERENCE
OCTOBER 22-24, 2019
U.S. Department of the Interior
1849 C Street NW

Washington, DC 20240
Agenda
*Agenda Subject to change
Download Agenda
Locations
OPTIONAL FIELD TRIP
Tuesday, October 22 from 9 AM – 3 PM
Smithsonian National Zoological Park
3001 Connecticut Ave NW,
Washington, DC 20008
202-633-4888
*Limited to 25 people – First come, first served.

WELCOME RECEPTION
Tuesday, October 22 from 6 – 8 PM
US Botanic Garden
100 Maryland Avenue, SW
Washington, DC 20001
(202) 225-8333

RECEPTION AND AWARD CEREMONY
Wednesday, October 23 from 6-8 PM
Enid A. Haupt Garden
(East Terrace next to the Arts & Industries Building)
1050 Independence Ave SW,
Washington, DC 20560
NAPPC 2-DAY CONFERENCE
Wednesday, October 23 and Thursday, October 24
US Department of the Interior
Sidney R. Yates Auditorium
1849 C Street NW
Washington, DC 20240
(202) 208-3100

HOTEL
State Plaza Hotel
2117 E St NW,
Washington, DC 20037
202-861-8200
NOTE: The group rate and availability are no longer guaranteed as the group block is full. The hotel is still accepting reservations at the group rate on a case by case basis. Please visit the reservations link to check availability.

There are a limited number of rooms available at the discounted rate of $251. Make a reservation through this NAPPC Web Link.
Guests can also call the Reservations department if they prefer 1 800 424 2859 and refer to Group Code 6722IY.
Ground Rules
The following ground rules provide a statement of how we propose to work together at the upcoming conference. These ground rules have been reviewed and approved by the Steering Committee as part of Conference planning. We request that you carefully review these prior to the meeting. Please call Laurie Davies Adams directly at 415.362.1137 to discuss any questions or comments you might have, or if you feel that for any reason you cannot participate in adherence to these guidelines.
COMMUNICATION AMONG PARTICIPANTS
The success of all projects depend upon open communication and cooperation. Therefore, the following guidelines will apply:
Each person is asked to fully participate in the Conference deliberations. The Task Force Chair(s) will ensure that all participants who want to contribute to discussions are allowed the time to do so. Therefore, participants are requested not to dominate the discussions; if this occurs the Task Force Chair(s) will intervene to ensure all parties have a chance to talk.

The Steering Committee has identified certain subjects that have the potential to sidetrack progress on moving the Action Plan forward. Due to the limited time we have together at the Conference, genetically modified organisms and collections versus observation will not be discussed during the Conference.

Any concerns about the conduct of the deliberations or the issues being discussed should be fully aired to the Task Force Chair(s) or the Steering Committee Members in private if appropriate to ensure that the deliberations are effective and positive. NAPPC participants should feel free to work collaboratively and openly. Please respect all perspectives. Disagreements or conflicts will be addressed as issues to be resolved rather than battles to be won.

Any commitments made should not be taken lightly and follow through will be expected. Committees and Task Forces will be facilitated and recorded by volunteer participants.
FAQ
MEDIA
Members of the press, please email nappc@pollinator.org for more information
SECURITY
Please allot enough time to clear security and be prepared with a government issued ID. International participants should bring a passport. Please leave behind laptops, food/drink, and anything that could be considered a weapon.
ADDITIONAL QUESTIONS
Please call Kelly Rourke at 415.362.1137 or email nappc@pollinator.org with any questions. Thank you and we look forward to seeing you at the 19th Annual NAPPC International Conference!