NAPPC Conference Recap 2022
We had so much fun at the annual North American Pollinator Protection Campaign (NAPPC) Conference, hosted by the Smithsonian's National Museum of Natural History in Washington DC. This event included insightful and inspiring keynote presentations from leaders at the forefront of pollinator issues, Task Force Breakout Sessions, and Research Updates from the Honey Bee Health Grant Awardees. The NAPPC conference brought partners of all backgrounds together, working to find common ground on initiatives that benefit pollinators.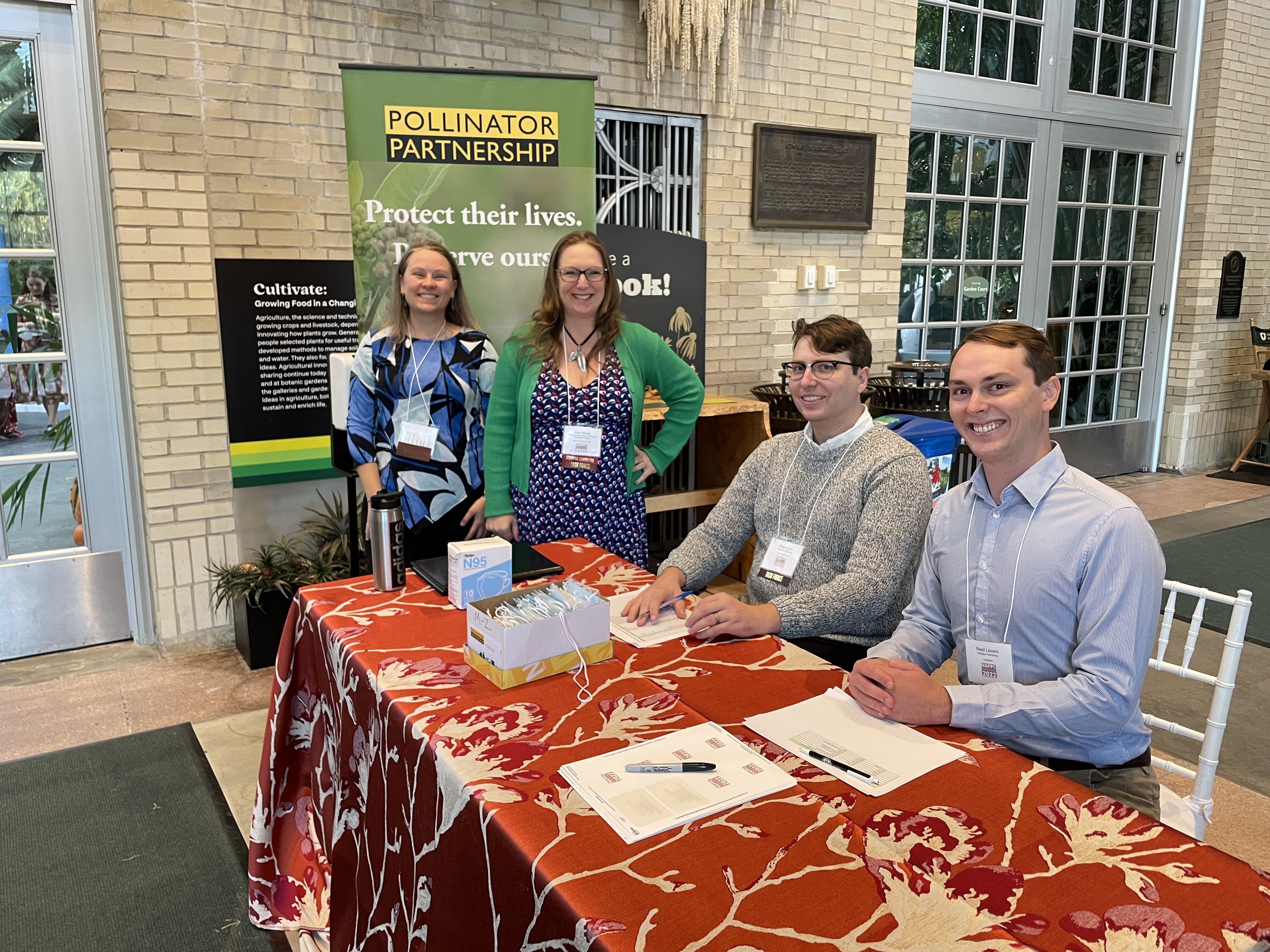 Keynote Speaker Presentations
Dr. Sammy Ramsey: Pollinator Pandemic: The Overlooked Role of Parasites in Honey Bee Health
Dr. Bruce Stein: Pollinators and Climate Change: Preparing for Accelerating Ecological Transformations
Mr. Kevin Butt: How Corporations Can Support Pollinators While Meeting Sustainability Goals
Dr. Matt O'Neal: Conserving Pollinators in Farmland-Lessons from the STRIPS Project
Dr. Kelsey Graham: Pesticide Exposure is a Landscape - Not Farm-Scale Problem for Managed Bees
Dr. David Wagner: Conservation of Pollinating Lepidoptera
2022 Task Forces
Going forward, the 10 active NAPPC Task Forces will continue to meet and work throughout the year on projects to help improve pollinator health throughout North America. To see a list of the Task Forces and the projects they are working on, click on the button below.
Task Forces
2022 Award Winners
On October 18, 2022, this year's award winners from the United States, Canada, and Mexico were honored by Pollinator Partnership and the NAPPC conference during the Award Ceremony hosted at the United States Botanic Garden in Washington, DC. By recognizing individuals and organizations that have contributed significantly to the promotion and conservation of pollinator species, NAPPC aims to encourage their activities and inspire future actions in support of pollinators.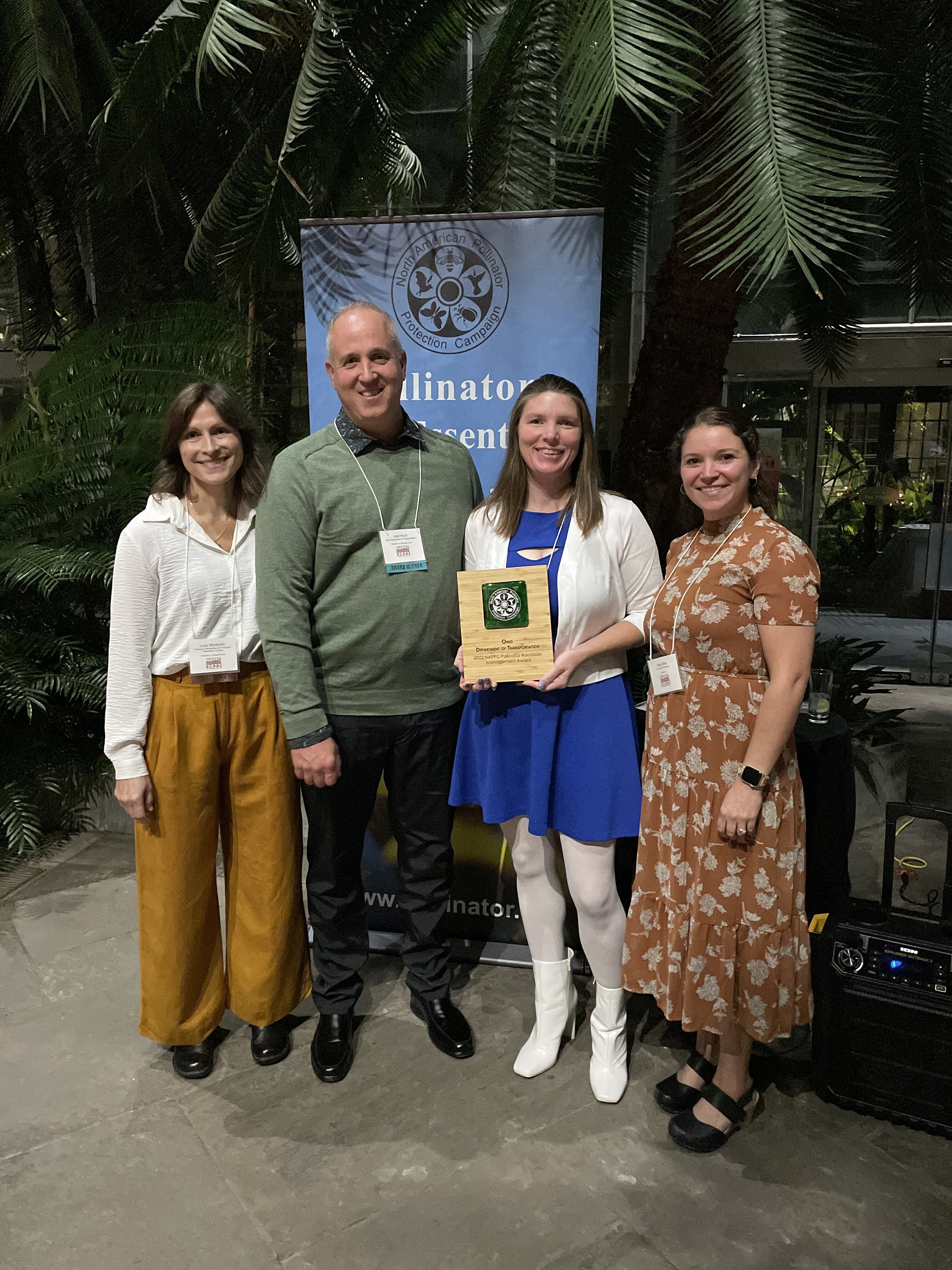 OHIO DEPARTMENT OF TRANSPORTATION
2022 POLLINATOR ROADSIDE AWARD

The Ohio Department of Transportation, (ODOT) planted wildflower sites across the state purely for aesthetics in the 1990s. The Department realized the practice was not sustainable in its current form and discontinued the practice. In 2011, ODOT was approached by the Ohio Department of Natural Resource's Division of Wildlife and Pheasants Forever to install a sustainable prairie on the western edge of the state in Darke County. The planting was successful and with a subsequent test site focusing on plants that benefit pollinators and wildlife began ODOT's pollinator habitat effort. With minor adjustments to its seed mixture, the Department determined a prairie could be created that would meet the needs of both initiatives, which greatly increased the number of public-private partners. In 2016, ODOT created a fully funded standalone Highway Beautification and Pollinator Habitat Program to capture the numerous opportunities available to enhance and establish pollinator habitat along the state's 19,000 miles of roadside. The coordinator works with local, state and federal agencies, non- profit organizations and other partner organizations to plan and implement new roadside pollinator habitats.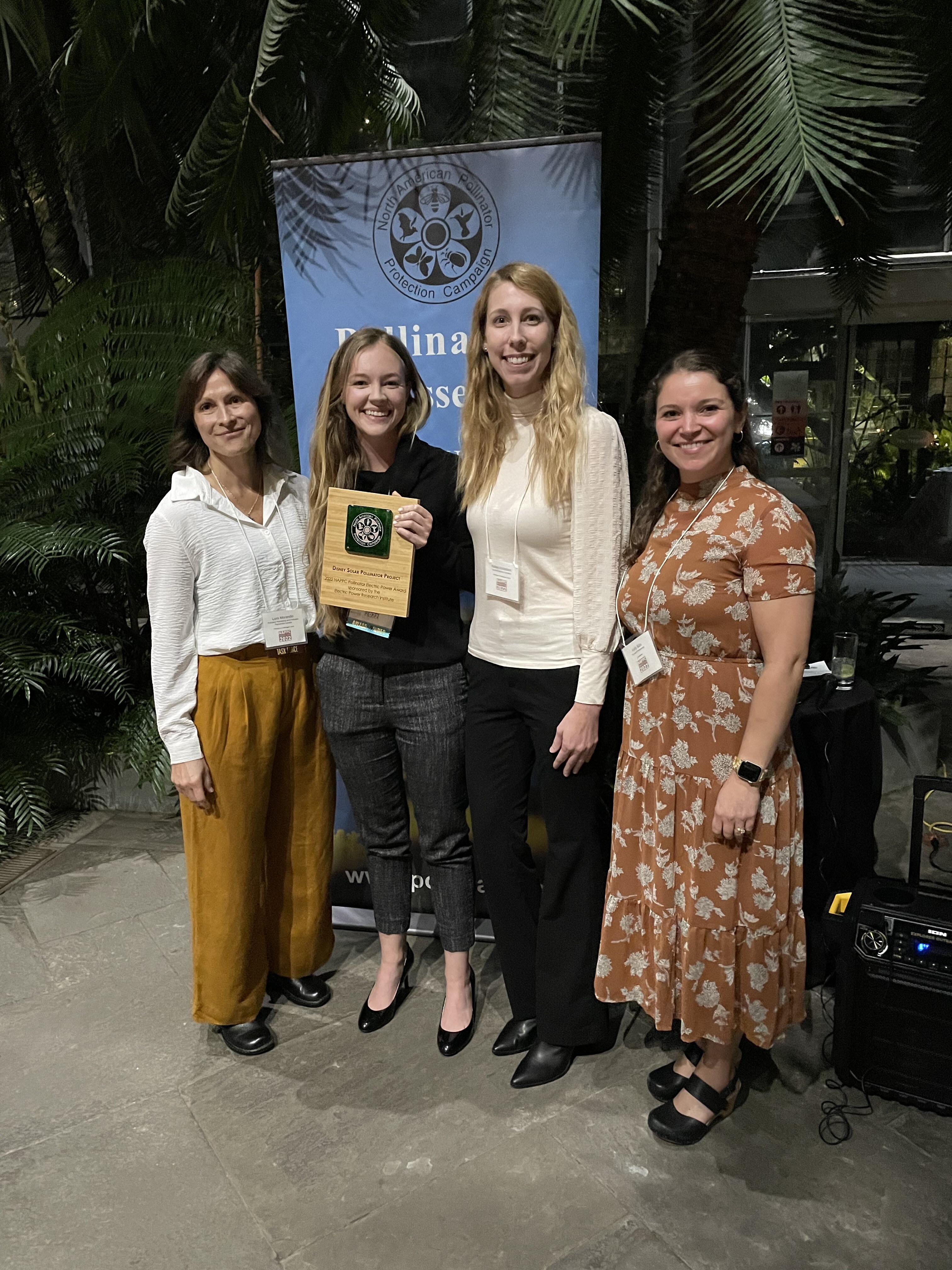 DISNEY SOLAR POLLINATOR PROJECT
2022 POLLINATOR ELECTRIC POWER AWAR
Disney set ambitious goals to drastically improve the sustainability and carbon footprint of company operations by 2020 including a 50% reduction of net emissions by 2020 from 2012 levels. To help achieve this goal, Disney worked with ORIGIS Energy USA, Duke Energy, Reedy Creek Improvement District, and Reedy Creek Energy Services to bring two solar facilities online, which offsets enough electricity to operate two out of the four Disney theme parks in Orlando. However, the story does not stop at clean energy. In continued commitment to wildlife and conservation, teams from Disney Conservation, Origis Energy USA, Duke Energy, Reedy Creek Improvement District, Disney Horticulture, other contractors, and individual experts worked together to create pollinator-friendly habitat at the solar facilities. The project goal is to not only add conservation value for native pollinators and wildlife, but also to provide valuable research meadow. Disney's current research aims are to continue to develop best management practices for long term habitat maintenance, to study solar habitat impacts on native bees, and to study how under-panel microclimate affects flowering phenology and abundance. This project allows us to lead and support other businesses in setting a new bar for industry standards and corporate conservation.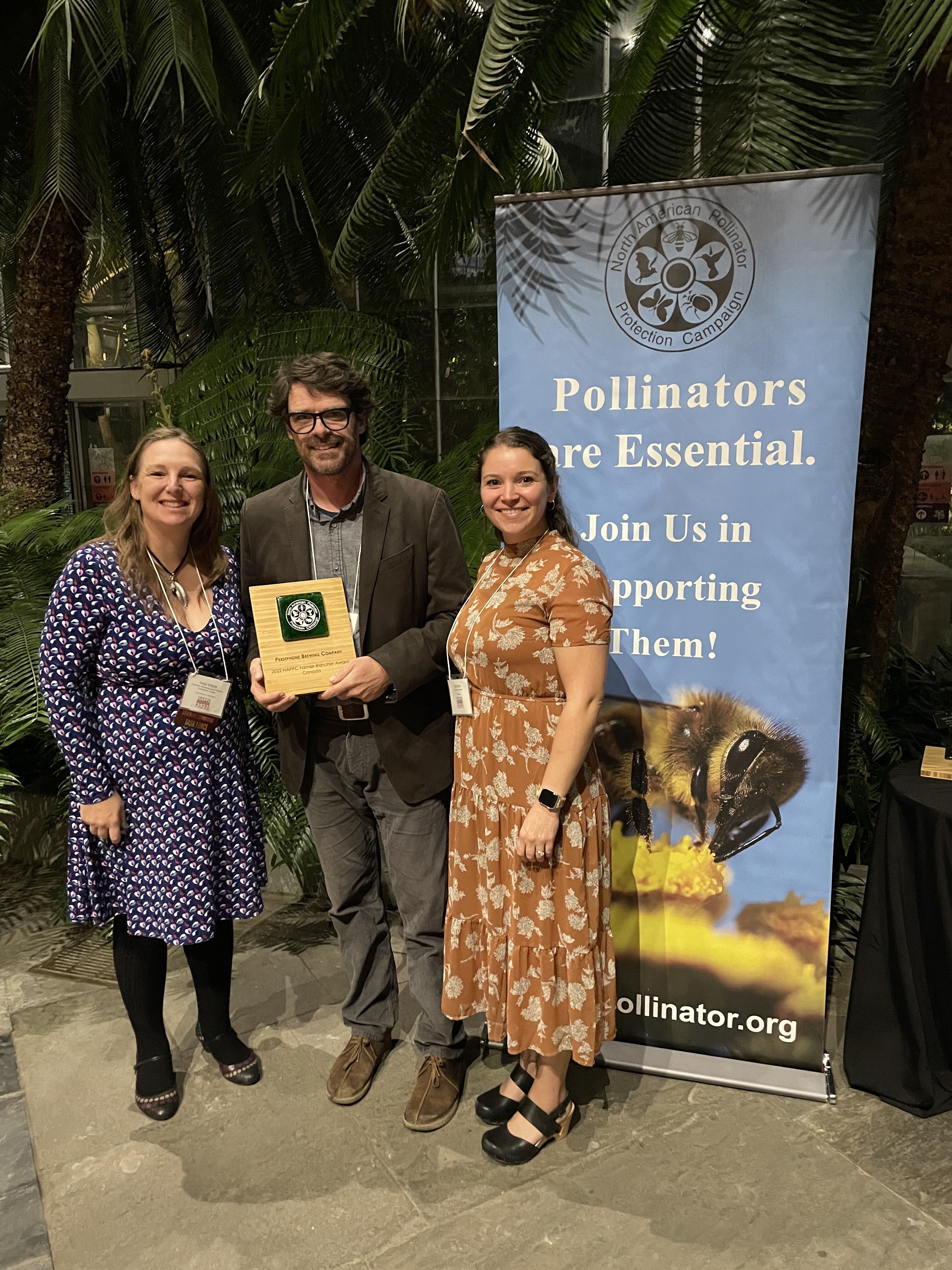 PERSEPHONE BREWING COMPANY
2022 FARMER-RANCHER POLLINATOR CONSERVATION AWARD CANADA
Persephone Brewing Company located in Gibsons, British Columbia makes sustainable brewing and local food security a priority when crafting their award-winning beers. Persephone is a certified B-Corporation and obtained their Bee Friendly Farming Certification from Pollinator Partnership. By becoming a Bee Friendly Farming member, Persephone helps preserve and protect the pollinator populations by implementing positive, incremental changes on our property.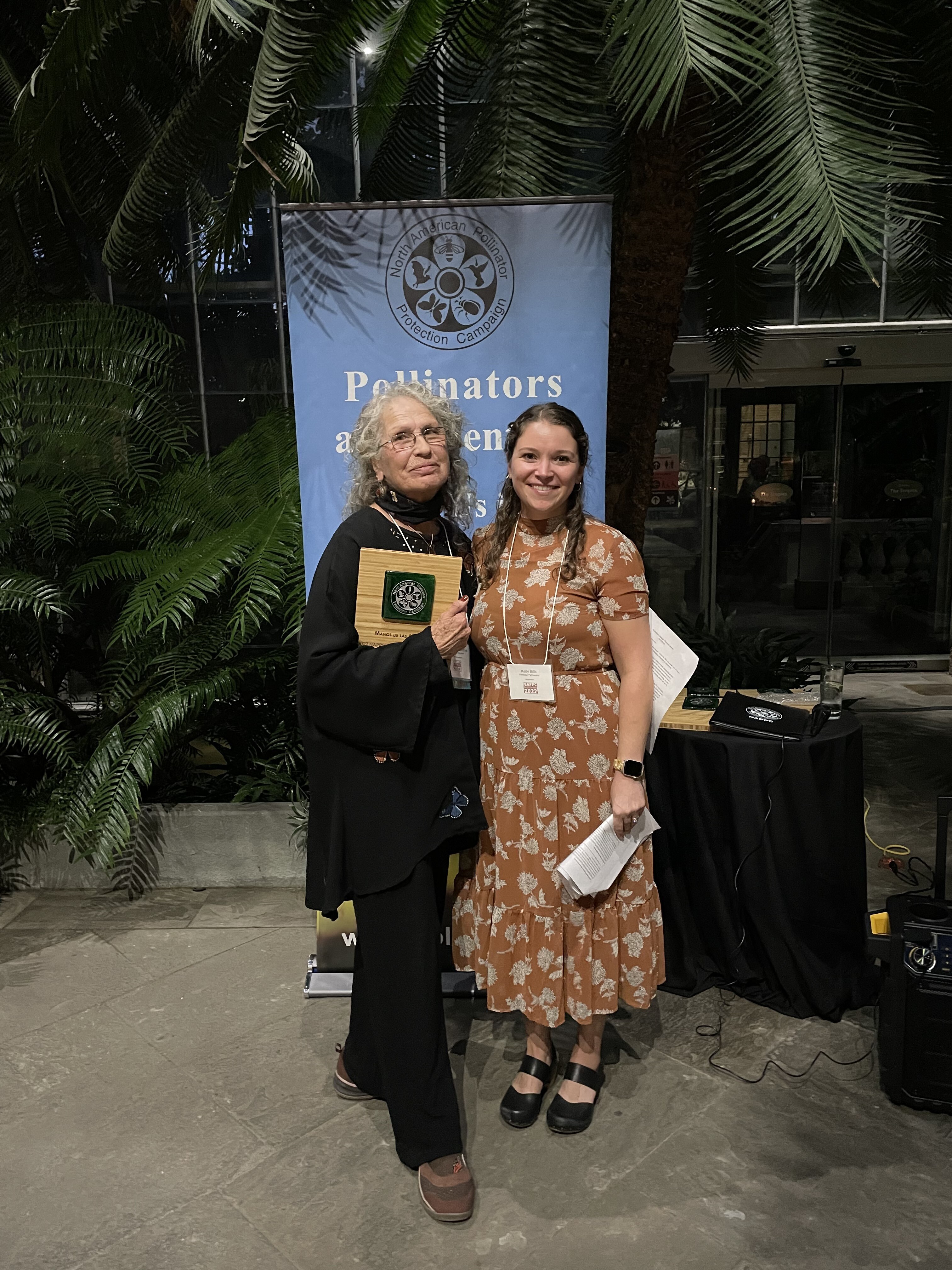 MARALEEN MANOS-JONES, MANOS DE LAS MARIPOSAS
2022 POLLINATOR ADVOCATE AWARD UNITED STATES
Maraleen Manos-Jones of Manos de las Mariposas has been contributing to pollinator conservation since 1972 when she brought home a monarch caterpillar and fed it milkweed that contained over 100 monarch eggs. Since then, Maraleen has traveled between Mexico and the United States to observe, protect, and spread awareness about migrating monarchs. She returned to Mexico almost yearly over the ensuing decades, working with the mountain women to sell their pine needle and other crafts and with a Mexican non-profit reforestation project where she helped facilitate the planting of over six million trees in and around the monarch sanctuaries. She is the author of sold-out book The Spirit of Butterflies: Myth, Magic & Art, published by Harry Abrams. As an educator with an M.A. in teaching, she has lectured nationally and in Canada addressing the importance of pollinators, the challenges they face from use of pesticides and climate change, always including positive actions individuals and communities can take to to help ameliorate the situation. She has brought her knowledge and passion to students at numerous schools, libraries, museums, universities, zoological parks and nature centers.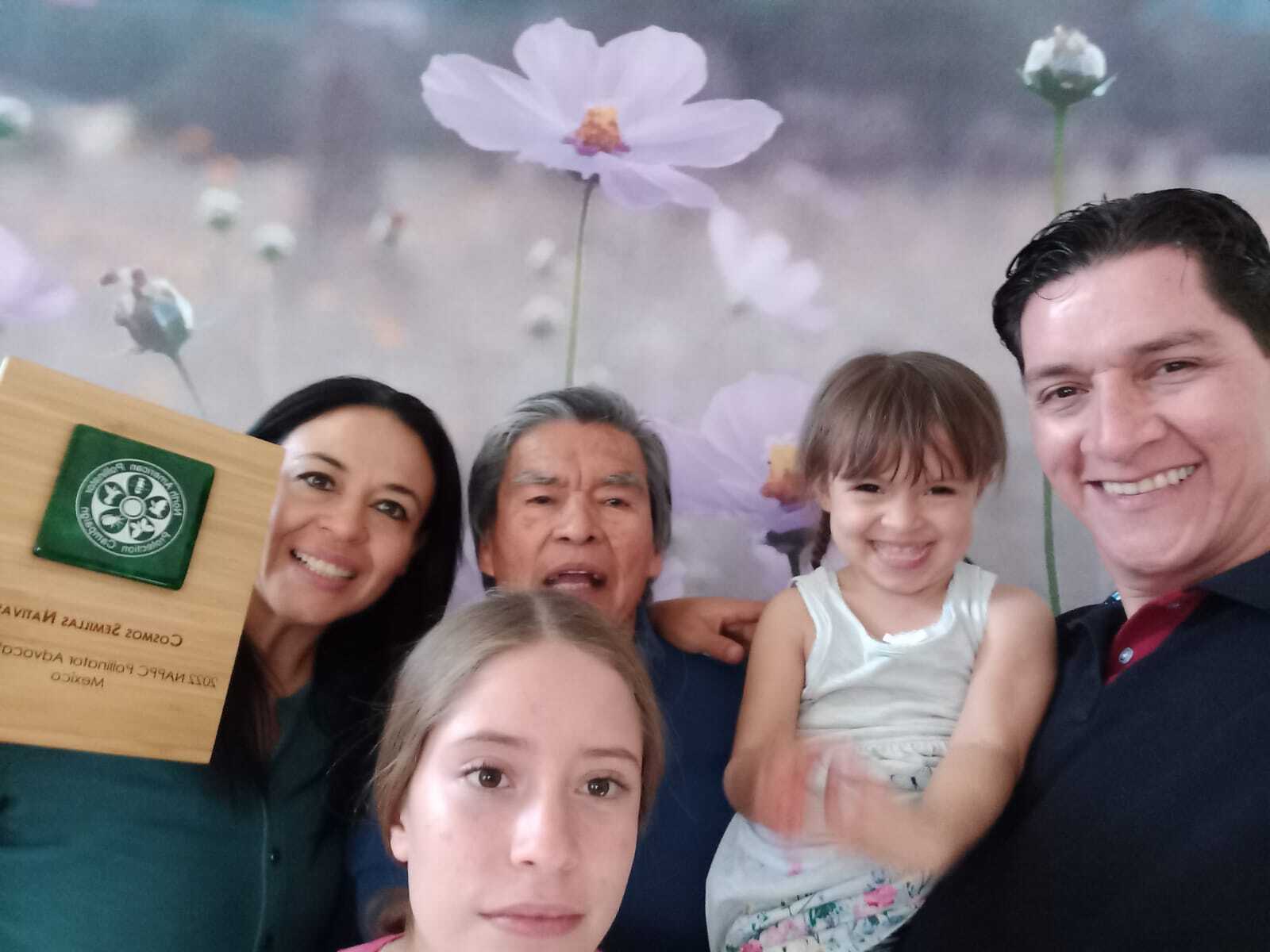 HECTOR AVILA, COSMOS SEMILLAS NATIVAS
2022 POLLINATOR ADVOCATE AWARD MEXICO
Hector Avila is a conservation biologist located in the state of Aguascalientes in central Mexico. After noticing the scarcity of native wildflower seed producers in Mexico, Hector founded Cosmos Semillas Nativas, the first native wildflower seed producer in the country. He is determined to make native wildflower seeds more available to food producers and the public for habitat restoration by participating in the development of the Mexico's National Strategy for the Conservation and Sustainable Use of Pollinators. He is one of the founders of the conservation nonprofit organization ECOSISTEMICA, A.C., where he collaborated to create pollinator and Monarch butterfly gardens in four states of central Mexico (Aguascalientes, Guanajuato, Jalisco and Zacatecas), financed by the USFWS. He also participated in the design of a brochure on monarch butterfly and a guide on pollinator gardens.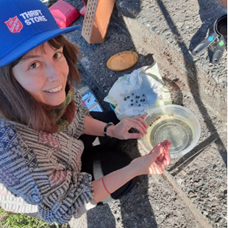 MYRIAM PARENT, WITHBLOOM POLLINATOR GARDENS
2022 POLLINATOR ADVOCATE AWARD CANADA
Myriam Parent is a professional musician and owner of Withbloom Pollinator Gardens, a business that specializes in education, consultations, and landscaping for indigenous plant and bee habitat on Lekwugen Territory. She is passionate about sharing her knowledge of pollinators and their associated native plants partners with her community. Myriam gets the people of Victoria, British Columbia excited about pollinator conservation by leading biweekly workshops on indigenous bees, educating participants on how to enhance bee habitat on their property. Her generous donations of time and compassion through workshops and the creation of numerous pollinator gardens has ripple effects throughout her community, catalyzing widespread public engagement and significant urban pollinator conservation.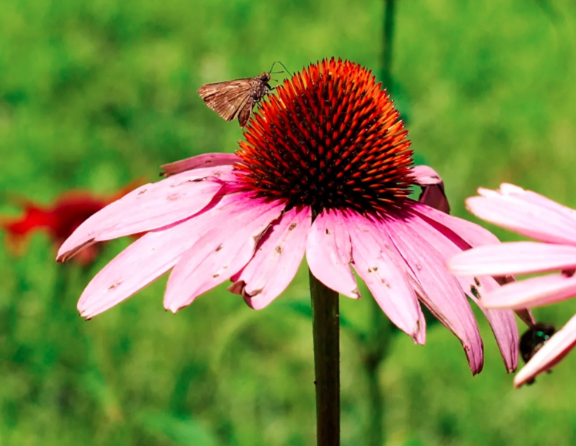 BAS ROUGE FARM AND FORGE
2022 FARMER-RANCHER POLLINATOR CONSERVATION AWARD UNITED STATES
Bas Rouge Farm and Forge is owned and operated by Glenn and Ivonne Vasquez of Victoria, British Columbia. Bas Rouge Farm and Forge began as a homestead and has grown into a diversified farm that fulfills their mission to encourage sustainable gardening. Their native plant nursery strives to educate visitors on the impact native plant communities has on sustaining vital pollinators in the region. Bas Rouge promotes the persistence of pollinator habitat through their several workshops centered around sustainable gardening and native plant sales. Their Native Plants for Pollinators gardening class educates attendants on the importance of native plants, shrubs, and trees on the lifecycle of significant pollinators such as bumblebees, small native bees, and fauna.
Honey Bee Health Grantees
Juliana Rangel, Ph.D. with Jordan F. Twombly Ellis, Texas A&M, Determining the drivers of precocious honey bee (Apis mellifera) self-removal behavior
Allison Malay with Ken Fedorka Ph.D., University of Central Florida, Environment and Pollinator Community Impact on Honeybee Viral Infections Health
Juliana Rangel, Ph. D. with Taylor Reams, Texas A&M, Novel method for Varroa control: utilizing worker brood to control mite populations
David Tarpy Ph.D. and Rodrigo Ivo Santos Ph.D., North Carolina State University, Developing a novel system to study bee viruses
Esmaeil Amiri Ph.D., Mississippi State University, Dynamics of viruses among Varroa mite populations
Ernesto Guzman-Novoa with Alvaro De la Mora Pena, University of Guelph, Breeding for Low Varroa Growth in Ontario Honey Bee Colonies
Alberto Prado and Ulises Olivares-Pinto, Universidad Nacional Autónoma de México (UNAM) and Cedric Alaux and Yves Le Conte of Institut National de la Recherche Agronomique (INRA), Using honeybee flight activity data as a toxicovigilance tool
Honey Bee Health Grants
Thank you for joining us!