10th Annual NAPPC International Conference Recap
The 10th Annual NAPPC International Conference held at the USDA in Washington, DC was a huge success! Thank you to everyone who attended and supported this year's conference. Leading scientists, researchers, conservationists, agricultural experts, religious leaders and government officials from the United States, Canada and Mexico were gathered on October 20-22nd for an intensive conference aimed at nurturing declining pollinator species vital to plant and food production.

Check out a recap of the conference with pictures, media releases as well as our honorary hosts and sponsors.
Pictures
Pollinator Advocate Awards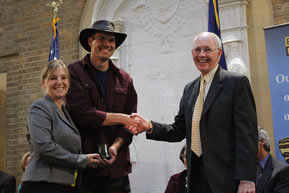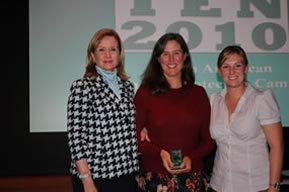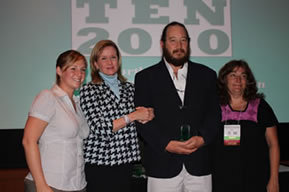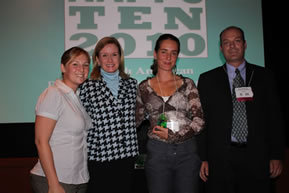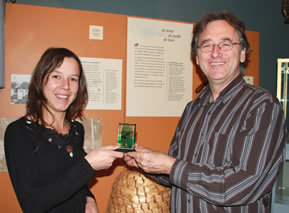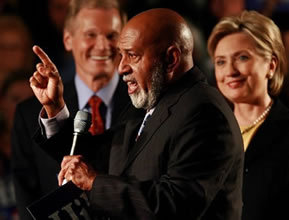 Power Point Presentations
Wednesday Open Symposium Presentations
Jeff Pettis
Laurie Adams
May Berenbaum
Vicki Wojcik
Chief Dave White
Tammy Horn
Christine Flanagan
Robert Johnson
Keith S. Delaplane
Joseph Wisk
Coro Arizmendi
Chris Leggett
Mace Vaughan
Honey Bee Health Presentations
Mark Carroll
Carolyn Breece
Dennis VanEngelsdorp
A very special thanks to ALL of your sponsors and honorary hosts in 2010!
Honorary Hosts
Dr. Martin Apple, President
Ed Flanagan, President & CEO
Honorable Jeff Merkley (OR)
Council of Scientific Society Presidents
Jasper Wyman and Son
U.S. Senate
Honorable Joe Baca (CA)
Nancy Foster, President
David Mendes, President
U.S. House of Representatives
U.S. Apple Association
American Beekeeping Federation
Honorable Earl Blumenauer (OR)
Honorable Kirsten Gillibrand (NY)
Honorable Randy Neugebauer (TX)
CP2C Member
U.S. Senate
CP2C Member
U.S. House of Representatives
U.S. House of Representatives
Honorable Bob Goodlatte (VA)
Honorable Madeleine Z. Bordallo (GU)
CP2C Member
Randy C. Papadellis, President & CEO
U.S. House of Representatives
U.S. House of Representatives
Ocean Spray Cranberries, Inc.
Honorable Leonard Boswell (IA)
Honorable Kay R. Hagan (NC)
Honorable Collin Peterson (MN)
CP2C Member
U.S. Senate
U.S. House of Representatives
U.S. House of Representatives
Honorable Tom Harkin (IA)
Honorable Earl Pomeroy (ND)
Honorable Barbara Boxer (CA)
U.S. Senate
U.S. House of Representatives
U.S Senate
Honorable Alcee L. Hastings (FL)
Susan Prohlman, Executive Director
Honorable Bobby Bright (AL)
CP2C Co-Chair
National Sustainable Agriculture Coalition
U.S. House of Representatives
U.S. House of Representatives
Steve Robinson, President
Honorable Henry E. Brown, Jr. (SC)
Honorable Tim Holden (PA)
National Association of Conservation Districts
CP2C Member
CP2C Member
U.S. House of Representatives
U.S. House of Representatives
Honorable Stephanie Herseth Sandlin (SD)
CP2C Member
Honorable Benjamin L. Cardin (MD)
Honorable Mike Johanns (NE)
U.S. House of Representatives
U.S. Senate
U.S. Senate
John Scholl, President
Honorable Dennis Cardoza (CA)
Roger Johnson, President
American Farmland Trust
CP2C Member
National Farmers Union
U.S. House of Representatives
Bart Schott, President
Honorable Tim Johnson (SD)
National Corn Growers Association
Honorable Robert P. Casey, Jr. (PA)
U.S. Senate
U.S. Senate
Larry Schweiger, President & CEO
Honorable Timothy V. Johnson (IL)
National Wildlife Federation
Honorable Saxby Chambliss (GA)
CP2C Co-Chair
U.S. Senate
U.S. House of Representatives
Lawrence A. Selzer, President
The Conservation Fund
Honorable Thad Cochran (MS)
Honorable Marcy Kaptur (OH)
U.S. Senate
CP2C Member
Bob Stallman, President
U.S. House of Representatives
American Farm Bureau Federation
Honorable Susan Collins (ME)
U.S. Senate
Honorable Amy Klobuchar (MN)
U.S. Senate
United Fresh Produce Association
Chuck Conner, President
National Council of Farmer Cooperatives
Honorable Patrick J. Leahy (VT)
Jay Vroom, President & CEO
U.S. Senate
CropLife America
Honorable Kent Conrad (ND)
U.S. Senate
Honorable Blanche Lincoln (AR)
Carol Werner, Executive Director
U.S. Senate
Environmental and Energy Study Institute
Honorable Jim Costa (CA)
CP2C Member
Honorable Frank Lucas (OK)
Honorable Rob Wittman (VA)
U.S. House of Representatives
U.S. House of Representatives
CP2C Member
U.S. House of Representatives
Honorable Mike Crapo (ID)
Representative Cynthia Lummis (WY)
U.S. Senate
CP2C Member
Honorable Ron Wyden (OR)
U.S. House of Representatives
U.S. Senate
Honorable Kathleen Dahlkemper (PA)
U.S. House of Representatives
Honorable Betsy Markey (CO)
Doug Youngdahl, President & CEO
CP2C Member
Blue Diamond Growers
Honorable Rosa DeLauro (CT)
U.S. House of Representatives
CP2C Member
U.S. House of Representatives
Sponsors
DIAMOND
Swanson Foundation
USDA Natural Resources Conservation Service
PLATINUM
Edison Electric Institute
Häagen-Dazs
National Fish and Wildlife Federation
USDA ARS - TUPF
Wallace Global
GOLD
USDA Forest Service
SILVER
Whole Foods
Orkin (Rollins)
BRONZE
Mr. and Mrs. Charles Adams
American Farm Bureau
Bayer
CropScience
Big Dipper
Wax Works
Ms. Jennifer Boulden
CropLife America
Jasper Wyman & Son
Motorola Foundation
National Council of Farmer Cooperatives
Native Pollinators in Agriculture Work Group
Mr. and Mrs. Brad Stirn
United States Golf Association
COPPER
Almond Board of California
American Beekeeping Federation
National Farmers Union
Mr. and Mrs. Martin Rosen
The Conservation Fund
Syngenta Crop Protection
Valent USA Corporation
Wildlife Habitat Council
Pollinator Providers
And thanks to the following for donating products:
Blue Diamond Growers
Burt's Bees
National Sunflower Association
Ocean Spray Cranberries