NAPPC Pollinator Electric Power Award
This award is co-presented and sponsored by the Electric Power Research Institute (EPRI).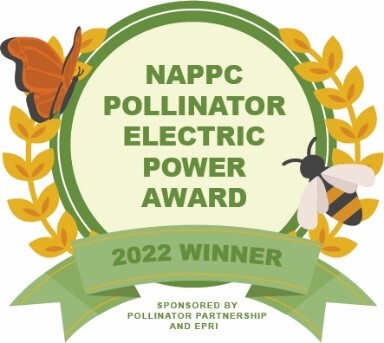 This initiative of the North American Pollinator Protection Campaign (NAPPC) recognizes electric power projects who are leading the field in pollinator‐friendly initiatives. This award was developed by the NAPPC Pollinators on Managed Lands Task Force in conjunction with the Electric Power Research Institute (EPRI). As a sponsor of the program, EPRI will not be represented on the award selection committee.
This award adds to existing NAPPC award categories, including Pollinator Advocates, Pollinator Conservation Farmer-Ranchers, and Pollinator Roadside Managers. Learn more about other award categories here.
The Award
Pollinator Electric Power Projects including, but not limited to utility rights-of-way, generation facilities (solar, wind, hydro, etc), substations, and surplus property are eligible for this award.
What you get:
Peer and stakeholder recognition
Award plaque presented ceremony and acceptance speech at NAPPC 2023
Template for a press release (that the company can customize)
An award badge for you to use on website/email/social media
NAPPC registration for up to 2 representatives
Please Note:
This award is for a SPECIFIC PROJECT. It is not for a company/agency as a whole. Please do not submit nomination forms for a collective set of efforts of an organization, as they will not be considered.
This NAPPC award is a notable award given only to highly deserving projects. If no deserving projects are nominated, NAPPC may choose to not provide any awards in this category.
NAPPC may request the top-ranking nominations to present to the selection committee.

Award Criteria – The following are the 4 primary considerations for the reviewers:
Commitment to the pollinator project, including long-term maintenance plans.
Vegetation management practices, including plant selection and site management.
Education & Engagement, including use of signage and public outreach.
Monitoring and measured benefit to pollinators.
Key Dates
Nomination Period: March 2023 – July 14, 2023
Deadline for Applications: July 14, 2023
Award Announced: Fall 2023
Nominations
To nominate a project for the NAPPC Pollinator Electric Power Award, please complete the online nomination form below and submit your nomination by July 14th, 2023. Self-nominations are accepted.
Award Form
Past NAPPC Pollinator Electric Power Award Winners
2022 Award Winner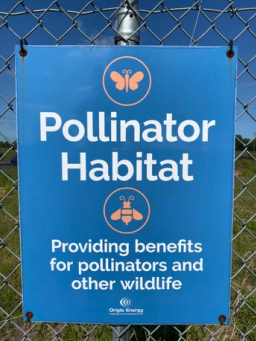 DISNEY SOLAR POLLINATOR PROJECT
The Disney Solar Pollinator Project supports Disney's sustainability goals to drastically improve the company's carbon footprint by including a 50% net reduction in carbon emissions by 2020 compared to 2012 levels. Disney worked with ORIGIS Energy USA, Duke Energy, Reedy Creek Improvement District, and Reedy Creek Energy Services to bring two solar facilities online to achieve their goal. The installation of two solar facilities provides valuable habitat for pollinators and opportunities for further research regarding solar panel impacts on native bees. The project's designated research meadow will be maintained indefinitely and aims to increase the acreage of native flowering plant cover in and around the arrays. The Citrus Ridge Solar plant covers approximately 270 acres of land and produces 52 megawatts of power. The Mickey Solar Array covers approximately 22 acres and produces 5 megawatts of power. Disney uses the solar facilities to educate and inspire children enrolled in the Disney Summer Conservation Camp in addition to engaging Disney cast members and guests in citizen science programs.

2021 Award Winner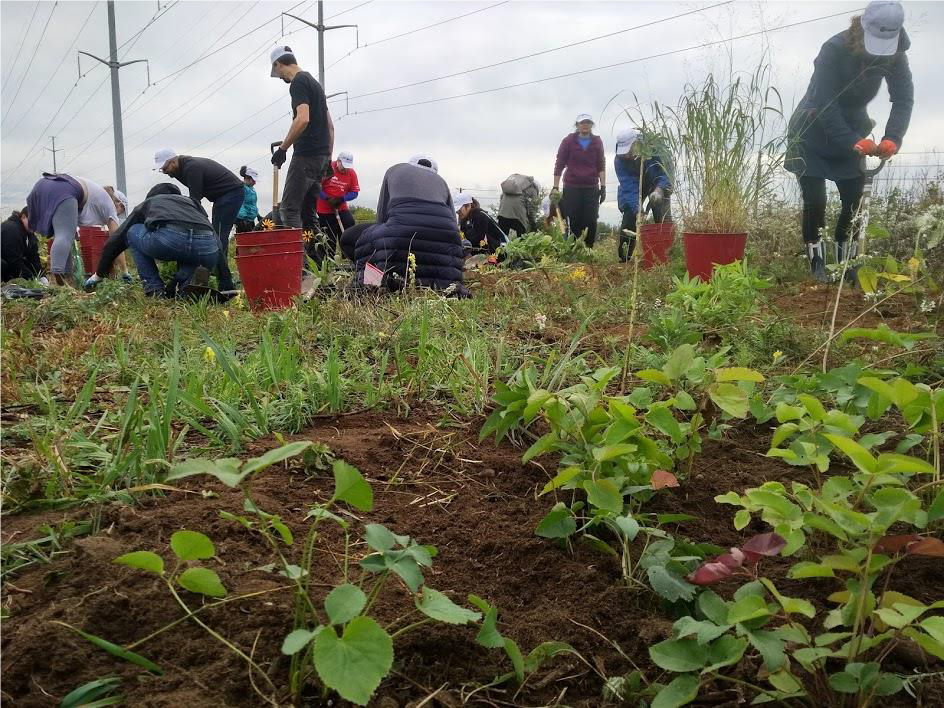 TORONTO AND REGION CONSERVATION AUTHORITY (TRCA)

Toronto and Region Conservation Authority's (TRCA) The Meadoway is an active urban restoration project in Toronto, ON that encompasses 200 hectares and 16 linear kilometers of the Gatineau Hydro Corridor between the Don River Ravine and the Rouge National Urban Park. The goals of the revitalization are to create and maintain a diverse, native meadow habitat for local wildlife and to create and active East-West link between Toronto and the Rouge National Urban Park. Full project completion is expected by the end of 2024, but by the end of 2021, 64 hectares will have been restored, completing 70% of the project. The Meadoway will connect seven rivers and ravine systems, 15 parks, 16 km of trail, 13 neighborhoods, over 200 hectares of greenspace, and more than 1,000 diverse species of flora and fauna. Corporate and community groups have also been engaged as participants in stewardship activities including the planting of native potted stock, garbage collection, invasive species removal, and interpretive walks.
2020 Award Winner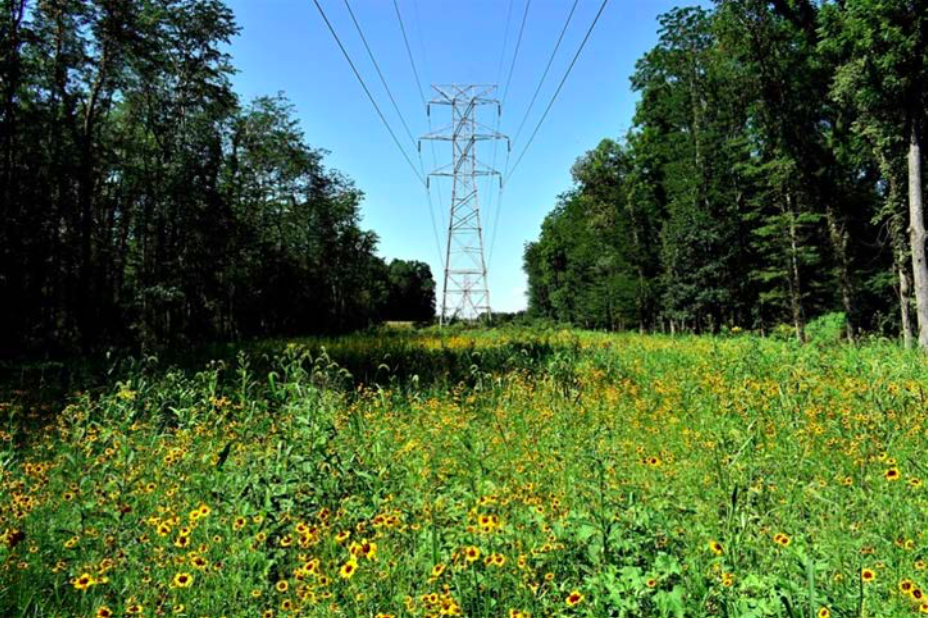 American Electric Power (AEP)

AEP is studying the substitution of native vegetation in place of traditional grasses to establish and maintain prairie habitat on typical transmission line upgrades while developing guidance and best management practices. Native prairie grasses and flowers may provide an improved alternate land use option that requires minimal maintenance once established. The native seeding approach can reduce erosion and provide drought-tolerant cover, while significantly improving the ecological value of rights-of-ways. Native seed mixes developed for AEP's research projects include a variety of plants that attract pollinator species and support wildlife.
In one major research effort, AEP is collaborating with the nonprofit Dawes Arboretum (near Newark, Ohio) to create a biodiverse prairie habitat along a transmission line right-of-way. This approach may be a cost-effective way to fulfill electric utility vegetation management requirements while significantly improving the ecological value of the habitat. Researchers there are documenting rich biodiversity and monitoring habitat quality, erosion control and invasive tree growth. AEP also is involved with other sustainability-oriented pollinator initiatives and right- of-way vegetation management studies.
Tim Lohner and Amy Toohey, AEP environmental specialist consultants, accepted the award on AEP's behalf at an Oct. 20, 2020, virtual ceremony during NAPPC's annual conference hosted by the Pollinator Partnership and the Smithsonian National Museum of Natural History.