Maintaining Roadsides for Pollinators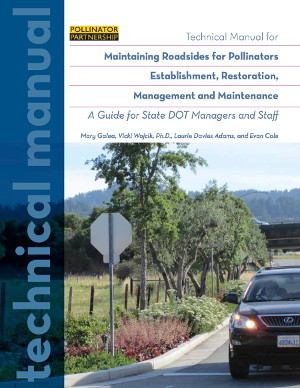 View
This Technical Manual for Maintaining Roadsides for Pollinators covers establishment, restoration, management and maintenance for pollinators along roadsides. This resource can be used as a comprehensive guide for State Department of Transportation (DOTs) managers and staff.
NAPPC Pollinator Roadside Management Award
Pollinator Roadways is an initiative of the North American Pollinator Protection Campaign (NAPPC) to recognize transportation agencies who are leading the field in pollinator-friendly roadside practices. In 2023, NAPPC will be awarding its 8th annual Pollinator Roadside Management Award.
AWARD CRITERIA: GOVERNMENT TRANSPORTATION AGENCY
Demonstrates an exemplary long-term commitment to provide pollinator habitat along roadsides.
Plants or seeds pollinator supporting vegetation.
Promotes vegetation management practices (mowing, pesticide use, etc.) within the agency that incorporate the needs of pollinators.
Can describe the positive impacts of the agency's pollinator initiative for animals and people.
Engages the public through education and outreach as well as signage.
Documented roadside miles impacted by the agency's pollinator initiative and plans for the future.
WHAT YOU GET
Award plaque presented at NAPPC 2023
Media release template that you can customize
An award badge that can be used on social media/websites/email signatures
Registration at NAPPC 2023 for 1 representative
KEY DATES
Nomination Period: September 2022 - July 14, 2023
Deadline for Applications: July 14, 2023
Award Announced: Summer/Fall 2023

Click here to view and download the nomination form.
Past NAPPC Pollinator Roadside Management Award Winners
2020 Award Winner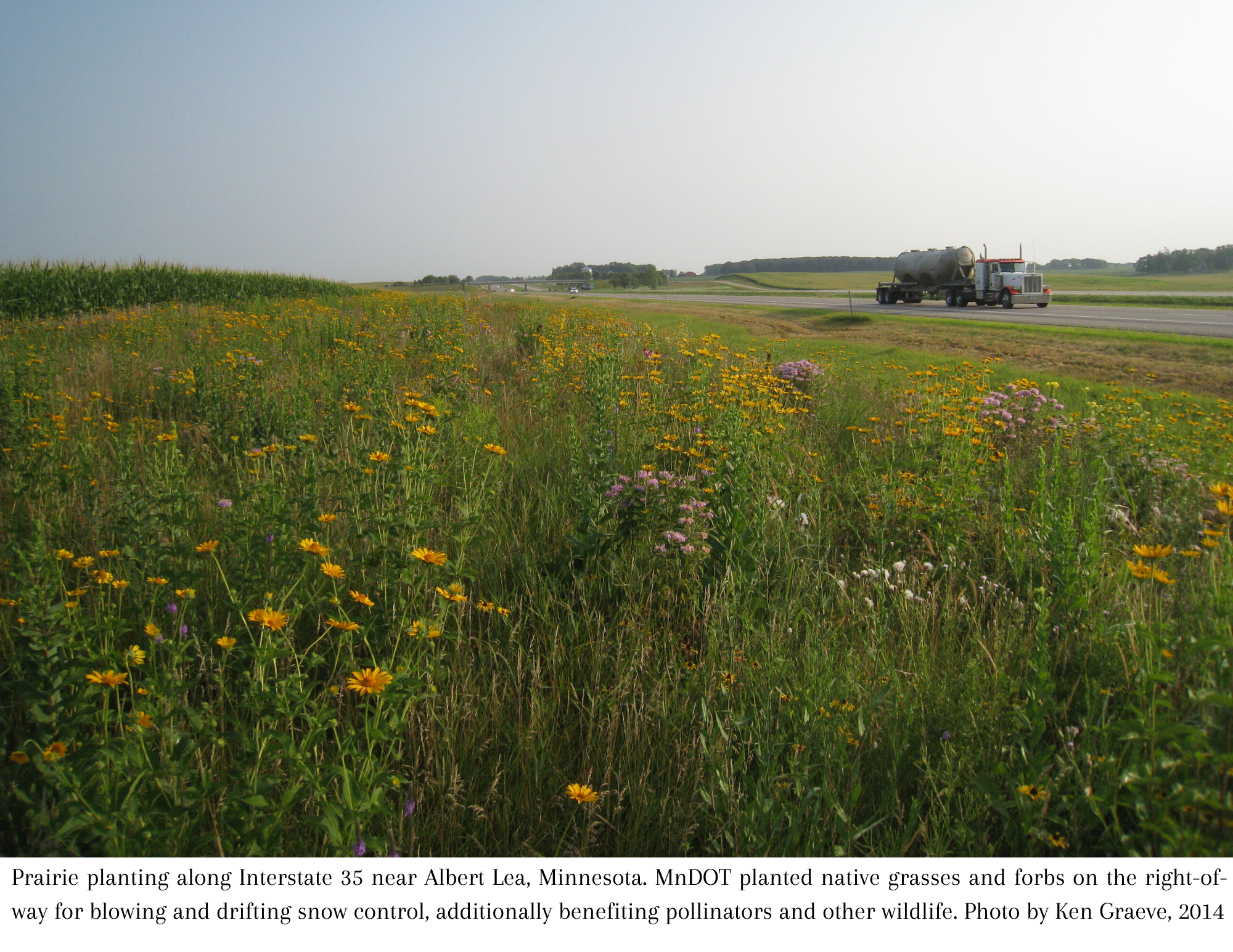 Minnesota Department of Transportation
Since the 1980s the Minnesota Department of Transportation (MnDOT) has been committed to environmental stewardship through reduced mowing practices and native seed use in roadside vegetation management. Over the past 20 years MnDOT has worked to protect pollinator species by using data from the state Natural Heritage Information System (NHIS) and other GIS databases to protect known locations of habitat and other adjacent lands during construction projects and routine maintenance. Additionally, MnDOT utilizes prescribed fire as a vegetation management tool to enhance native habitat and plant diversity while also controlling invasive species. MnDOT supports various research projects related to pollinator habitat to improve financial effectiveness and increase tax dollar spending efficiency.
Recently, MnDOT helped lead the development of the Monarch Butterfly Candidate Conservation Agreement with Assurances (CCAA), which is the first nationwide voluntary agreement with the U.S. Fish & Wildlife Service to support monarch butterfly conservation on energy and transportation lands. In addition to serving as the co-chair for the Transportation Sector Team throughout the development of the CCAA, MnDOT is also one of the first state DOTs to enroll in the agreement and commit to long-term management of monarch butterfly habitat on their roadsides.
2019 Award Winners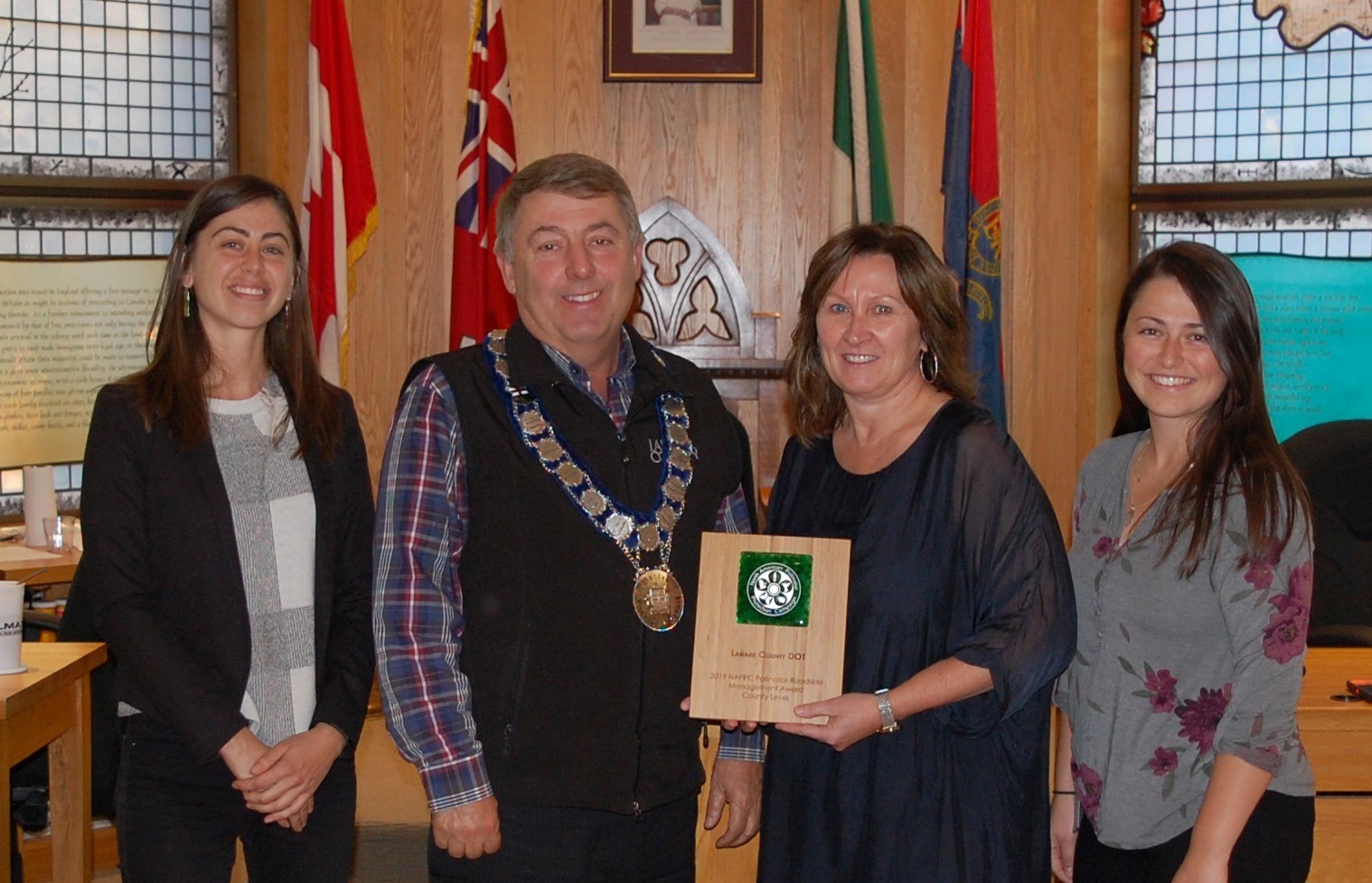 The Corporation of the County of Lanark
Lanark County has implemented roadside maintenance practices that optimize necessary roadside activities and maintain pollinator habitat. Their long-standing mowing schedule reduces mowing in June, July, and August when pollination activities are peaking. The goal of the County's mowing practice is to reduce the area of the roadside that requires mowing, while still providing safety for road users, but also maintaining good pollinator habitat in the area beyond the mowed section. In addition, broad herbicide application, as a general vegetation control, has not been practiced in Lanark County in over 25 years. As a result, the road allowances in Lanark County grow abundant pollinator habitat naturally, which the County wants to promote everywhere. Lanark County has also provided habitat for pollinators by creating pollinator patches, where they planted over 1,000 pollinator-friendly plants between 2017 and 2018 that bloom throughout the growing season. Lanark County is also participating in the monarch restoration project with the Canadian Wildlife Federation, the goal of which is to produce a technical document to aid roadside managers on how to manage their corridors.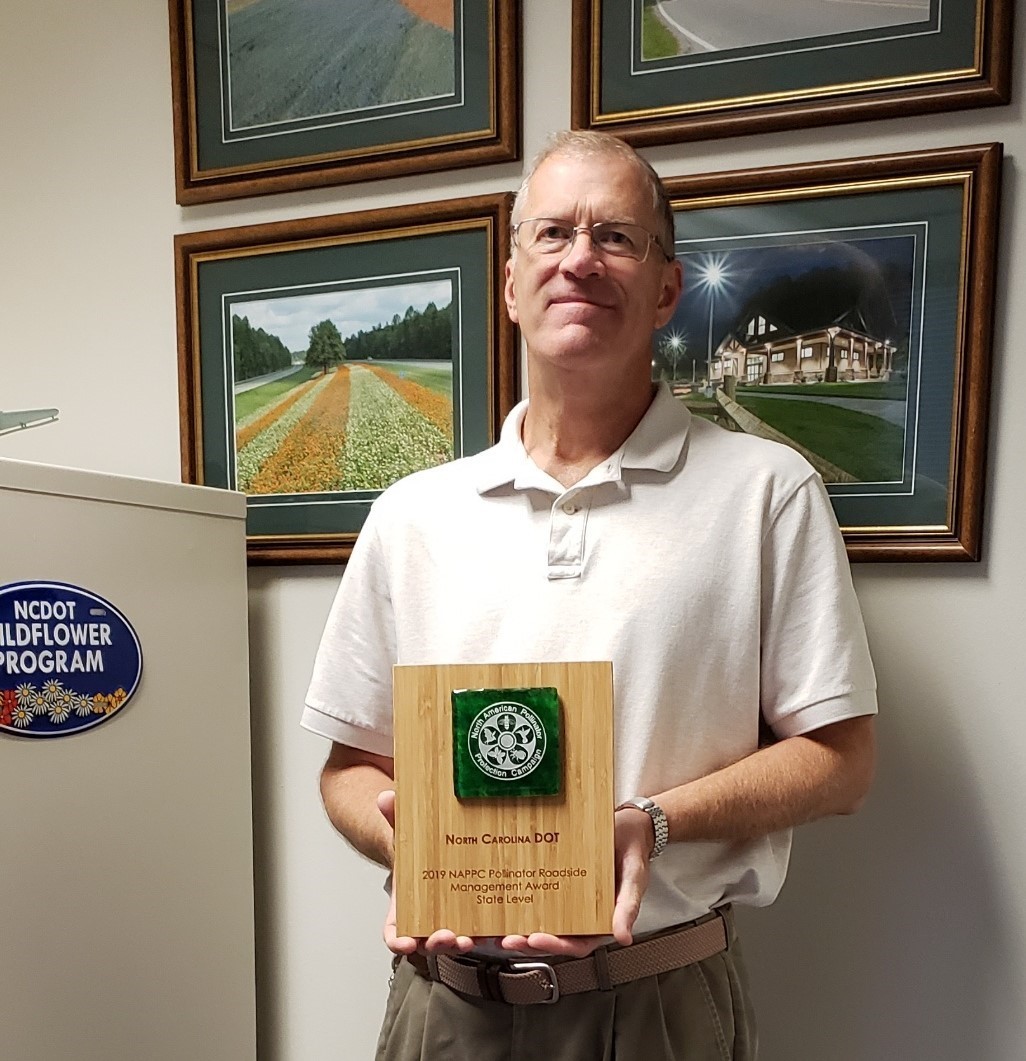 North Carolina Department of Transportation
NCDOT began its Roadside Environmental Unit Wildflower Program in 1985. The program is still prospering and has created beautiful wildflower beds throughout the entire state of North Carolina. NCDOT is also active at local bee club events and educates the public on pollinators at its annual state fair booth. The additions of horticulture plant bed programs and clear zone improvement programs have bolsters the agency's efforts in recent years. Pollinator license plates purchased throughout the state help ensure consistent funding for the Roadside Environmental Unit into the future.
2018 Award Winner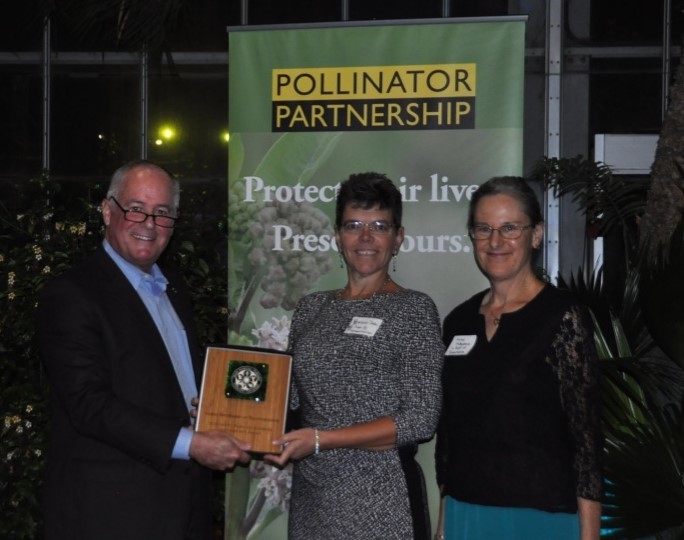 Illinois Department of Transportation
IDOT has demonstrated their long-term commitment to pollinator habitat in multiple ways, including new mowing policies that will create an estimated 100,000 additional acres of pollinator habitat and the dedication of $500,000 of their annual budget for new pollinator habitat and restoration projects. They have also updated the statewide seeding specifications and standards to include monarch butterfly and pollinator friendly seed mixes, with multiple species of milkweed. Additionally, they place a large emphasis on pollinator friendly rights-of-way (ROW) management, partnering with companies to provide habitat along ROWs, engaging in multiple ROW working groups, serving on the ROW Sector Technical Team in 2017 and 2018, and drafting the Transportation ROW strategies for the sector. IDOT regularly engages the public with by staffing fair booths, registering existing habitat, and distributing over 7,000 seed packets. They are working towards restoring 200 acres of pollinator habitat since August 2016.
2017 Award Winners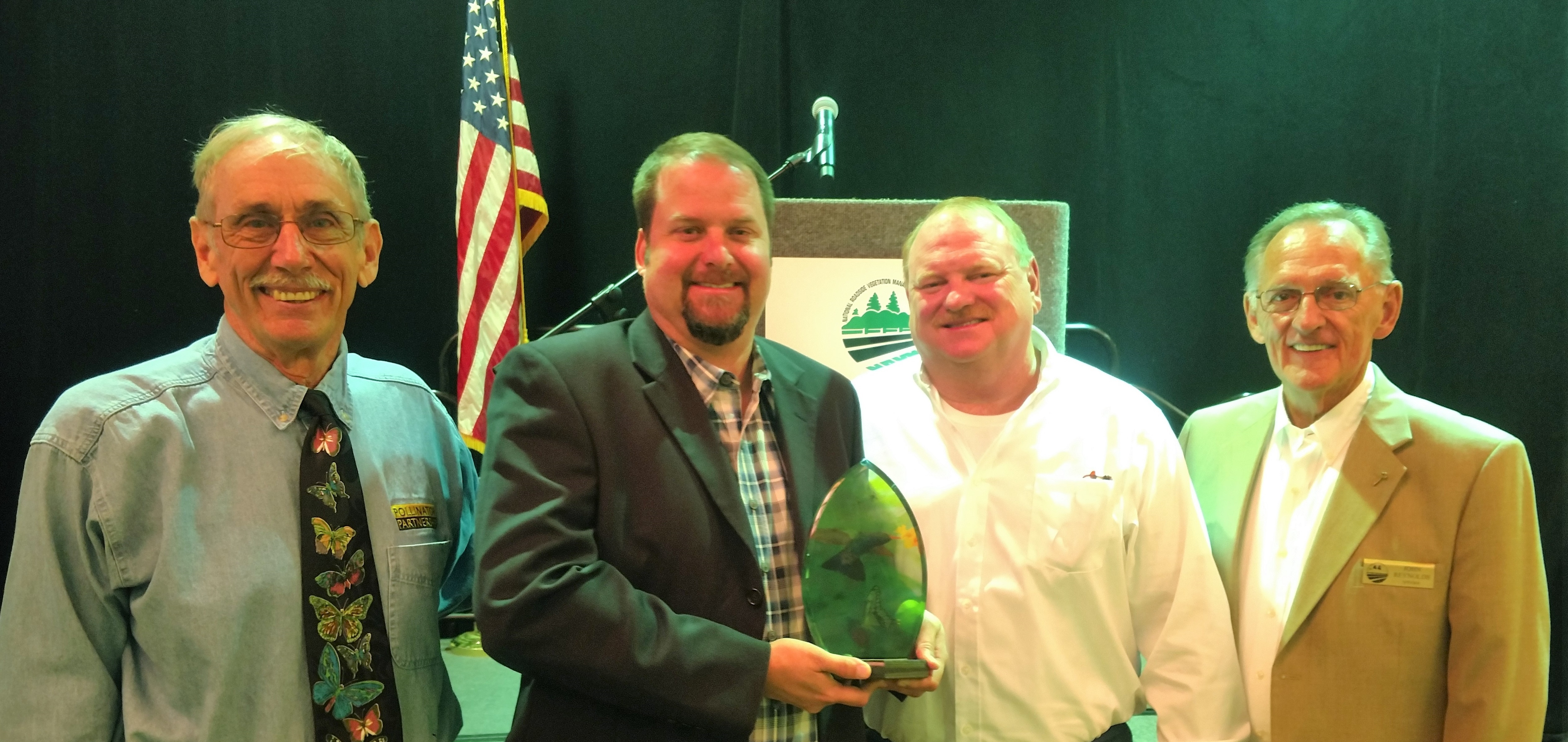 FIRST PLACE: TEXAS DEPARTMENT OF TRANSPORTATION
Texas DOT's pollinator initiatives have played a very positive role in many communities in Texas for both people and animals. Through mowing, planting, IVM, and educational programs the agency has been a real steward for pollinator health.
SECOND PLACE: VIRGINIA DEPARTMENT OF TRANSPORTATION
The Virginia Department of Transportation initiated a formal "Pollinator Habitat Program (PHP) In the spring of 2014. The agency has demonstrated an exemplary long-term commitment to provide pollinator habitats along roadways since then.
2016 Award Winners

FIRST PLACE: GEORGIA DEPARTMENT OF TRANSPORTATION
In the past 14 years, the Georgia Department of Transportation (Georgia DOT) has planted approximately 2,700 acres of roadside wildflowers statewide utilizing proceeds from the sales of wildflower-themed vehicle license plates.
SECOND PLACE: JOHNSON COUNTY INTEGRATED ROADSIDE VEGETATION MANAGEMENT
Johnson County Integrated Roadside Vegetation Management Johnson Country IRVM has planted over 350 acres of high quality pollinator habitat over the last 25 years. Additionally, Johnson Country IRVM has implemented mowing and pesticide use policies that incorporate the needs of pollinators.
HONORABLE MENTION: LEAVENWORTH NATIONAL FISH HATCHERY
HONORABLE MENTION: OHIO DEPARTMENT OF TRANSPORTATION
Highways BEE Act
Highways Bettering the Economy and Environment Pollinator Protection Act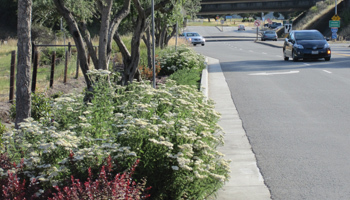 Highways BEE Act: H.R. 2738 was introduced by Reps Alcee Hastings (D-FL) and Jeff Denham (R-CA) on June 11 and is strongly supported by the Pollinator Partnership (P2). Hastings and Denham are co-chairs of the Congressional Pollinator Protection Caucus (CP2C).

VICTORY! POLLINATOR ROADSIDES PROVISION NOW LAW OF THE LAND! THANK YOU FOR YOUR SUPPORT.
Watch for additional action requests as we work with State Department of Transportation.
BACKGROUND
In Brief: To amend title 23, United States Code, to encourage and facilitate efforts by States and other transportation rights-of-way managers to adopt integrated vegetation management practices, including enhancing plantings of native forbs and grasses that provide habitats and forage for Monarch butterflies, native bees, and other native pollinators, and for other purposes. H.R. 2738 promotes conservation practices on 17 million acres of highway rights-of-way (ROWs) by encouraging willing State DOTs to reduce mowing and plant for pollinators, providing improved habitat for pollinators, ground nesting birds and other small wildlife. The goal is to get an amendment based on the Highways BEE Act in that important legislation.
RESOURCES
CLICK HERE to view COMMENTS made about the Highways BEE Act by nearly 1,000 supporters. What is your favorite?
SUPPORT FOR HIGHWAYS BEE ACT
The undersigned support H.R. 2738, the Highways Bettering the Economy and Environment Pollinator Protection Act (Highways BEE Act).
Pollinators, such as honey bees and native pollinators, birds, bats, and butterflies, are essential to healthy ecosystems and are vital partners in American agriculture. Honey bees, monarch butterflies and other native pollinators are suffering drastic population losses, due in part to loss of habitat.
Highway right-of-ways (ROWs) managed by State Departments of Transportation (State DOTs) represent about 17 million acres of opportunity where significant economic and conservation/environmental benefits can be achieved through integrated vegetation management (IVM) practices, that can—
Significantly reduce mowing and maintenance costs for State DOTs, and
Help create habitat, forage and migratory corridors that will contribute to the health of honey bees, monarch butterflies and other native pollinators, as well as ground nesting birds and other small wildlife.
Neighboring agricultural lands and wildlife ecosystems will benefit through improved pollination services.
The Highways BEE Act directs the Secretary of Transportation to use existing authorities, programs and funding to encourage and facilitate IVM and pollinator habitat efforts by willing State DOTs and other transportation ROWs managers, building on innovative IVM efforts in a growing number of State DOTs.