Pollinator Vision 2040
A North American Pollinator Protection Campaign (NAPPC) Initiative

Pollinator Vision 2040 is a strategic plan for pollinator conservation across North America. This plan will be evolving over the coming years as NAPPC Members and pollinator experts come together to determine a plan forward for achieving the following vision.
Vision: In twenty years we will have a sustainable and equitable world for people and pollinators, with food production, ecosystems and economies thriving.
Steps to reach the future we envision:
Increase research/databases/information access.
Create and restore habitat.
Promote awareness and education.
Eliminate or mitigate environmental stressors.
Engage all stakeholders.
Build international cooperation and engagement to create and enforce relevant policy.
Analyze the economics and financial implications of pollinator health.
Build fundraising capacity to support pollinators.
The following concepts relate to each of the Steps listed above and were suggested by the full NAPPC membership during a brainstorming session held at the 2020 NAPPC International Meeting. Though by no means comprehensive, these ideas provide projects that will help realize the goals of the Vision 2040 project. This living document is still in draft form and while it is not a complete road map, it is a directional start to the production of such a guidance document.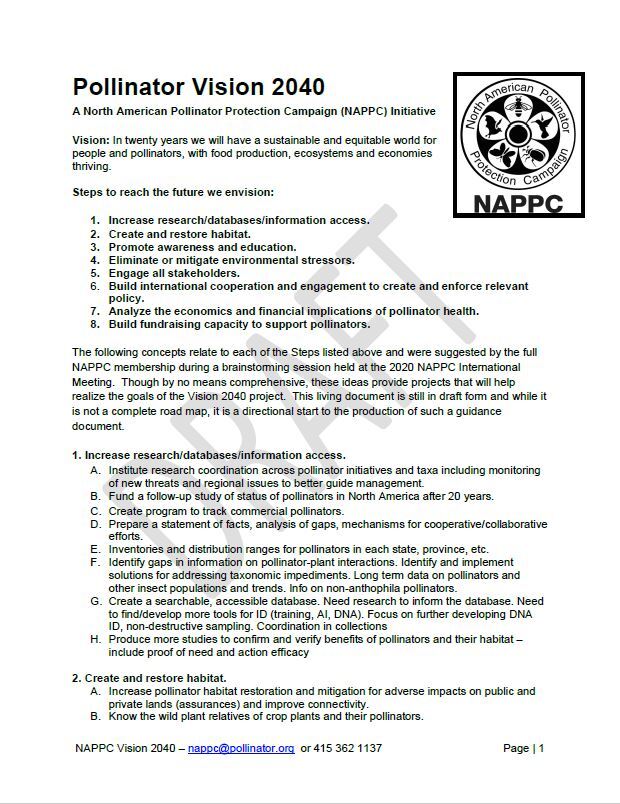 Download the Working Draft