Lou Florence - Meadowitos
Food, spices, oils, and fibers – pollinators excel at making these items possible. The complexity of the pollinator world is astounding because of the roles they play and their vitality to healthy ecosystems. We celebrate these achievements through the incredible people and projects that are working to conserve pollinators. We hope these stories encourage and empower you to better understand who our pollinators are and what actions you can take to help them. This Pollinator Conservation Spotlight shines on Lou Florence, creator of Meadowitos.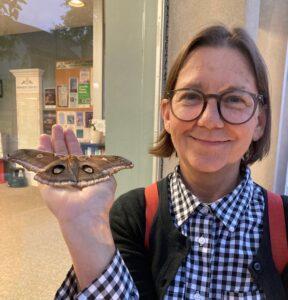 Q: How would you describe this effort?
A: Meadowitos is a project that engages the community in recognizing and addressing issues of environmental impact such as urban fragmentation. We connect supporting the environment to supporting people and we seek to do both.
Q: Where is the majority of your work taking place?
A: Kenneth Square which is a small town in a semi-suburban area an hour southwest of Philly. We are a close-knit and active community and our region is a mushroom capital of the world, but that's a different story!

Q: How did your project start?
A: A few years ago there was a competition calling for proposals to beautify the community. My pitch identified 3 or 4 dead-zone areas in the city and proposed we use native plants to create a corridor for pollinators in the city. I was awarded $500 in seed money when my pitch was selected. Many people wanted to engage and help with this project because they knew I was a librarian in town. So that's how Meadowitos got off the ground.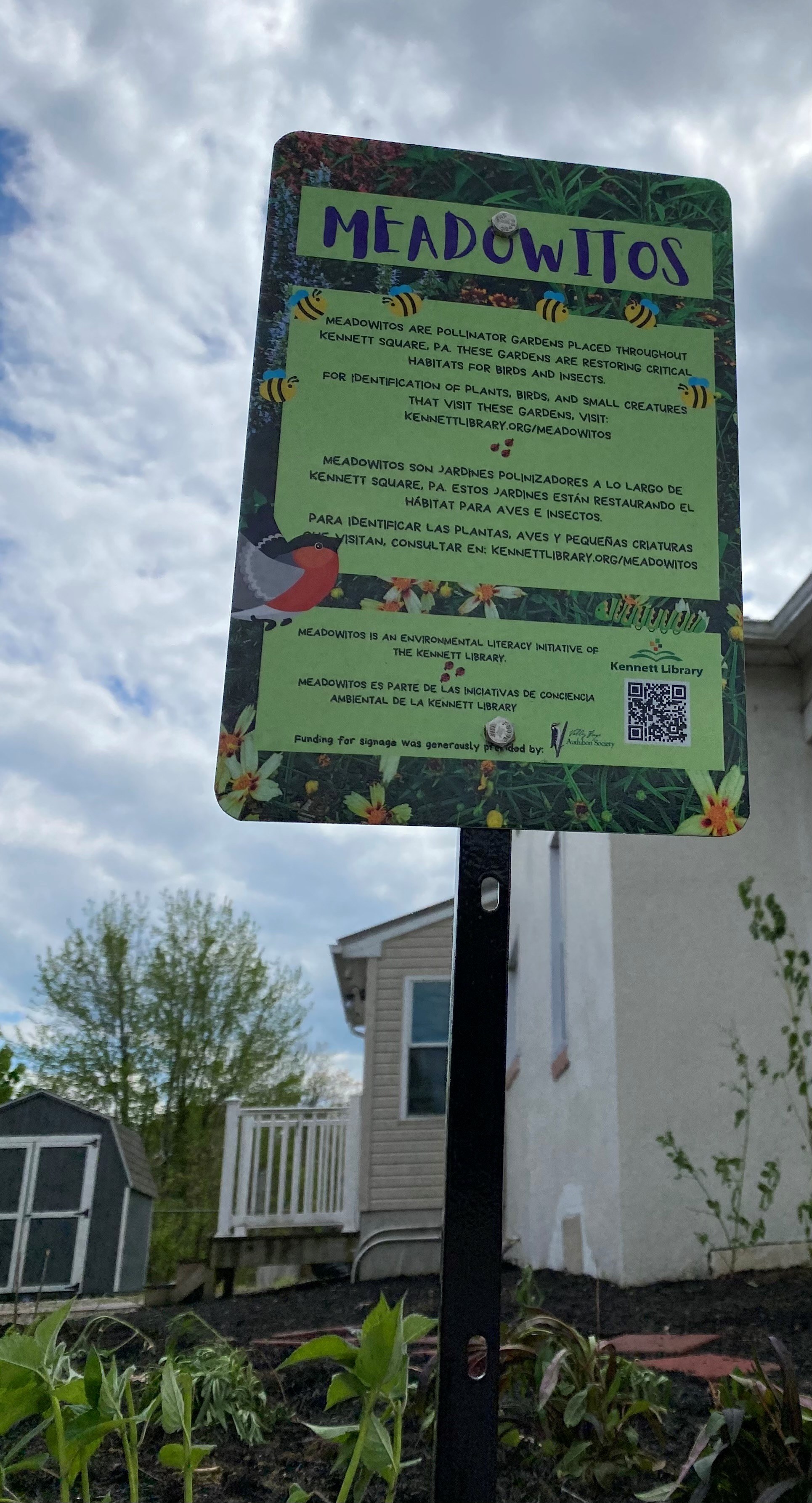 Q: What got you interested in or inspires you about pollinators?
A: I can remember the moment distinctly. I was conversing with a friend who does a lot of gardening. She mentioned a Pollinator-Pathway project in Seattle led by Sara Bergman back in 2007. The project used native plants to create a corridor connecting isolated green spaces from residential spaces, Seattle University, and a local park. Until I heard of that project, I didn't realize that certain pollinator species couldn't migrate very far. I don't know why but that [project] really mattered to me and was the genesis of Meadowitos.
Q: What is the target audience for this work?
A: I would say we are equally interested in the natural critters and the community of Southern Chester County. Our population is primarily white and Hispanic. The reason I named the project Meadowitos was to give a nod of recognition to the Latino community, so I made this hybrid word, everyone uses it as if it were a dictionary word, but I made it up (laughs). I wanted to combine "-itos which is a diminutive term of endearment in Spanish and 'meadow' none of these gardens are truly meadows but I thought it was a lovely word. I really want this project to develop and engage the Latino community which is a wide and very varied diaspora.
Q: What are the primary goals of your project?
A: One of our goals is to engage the Latino community for example, all of our signage is bilingual but there are still ways I want to increase that. There is a project here in Philly called Mighty Writers, an afterschool enrichment program that encourages creativity for underrepresented students through writing their own stories. They have a local branch, and we planted a small garden for them in front of their location. That was one of our entries into a population that engages with our garden every day.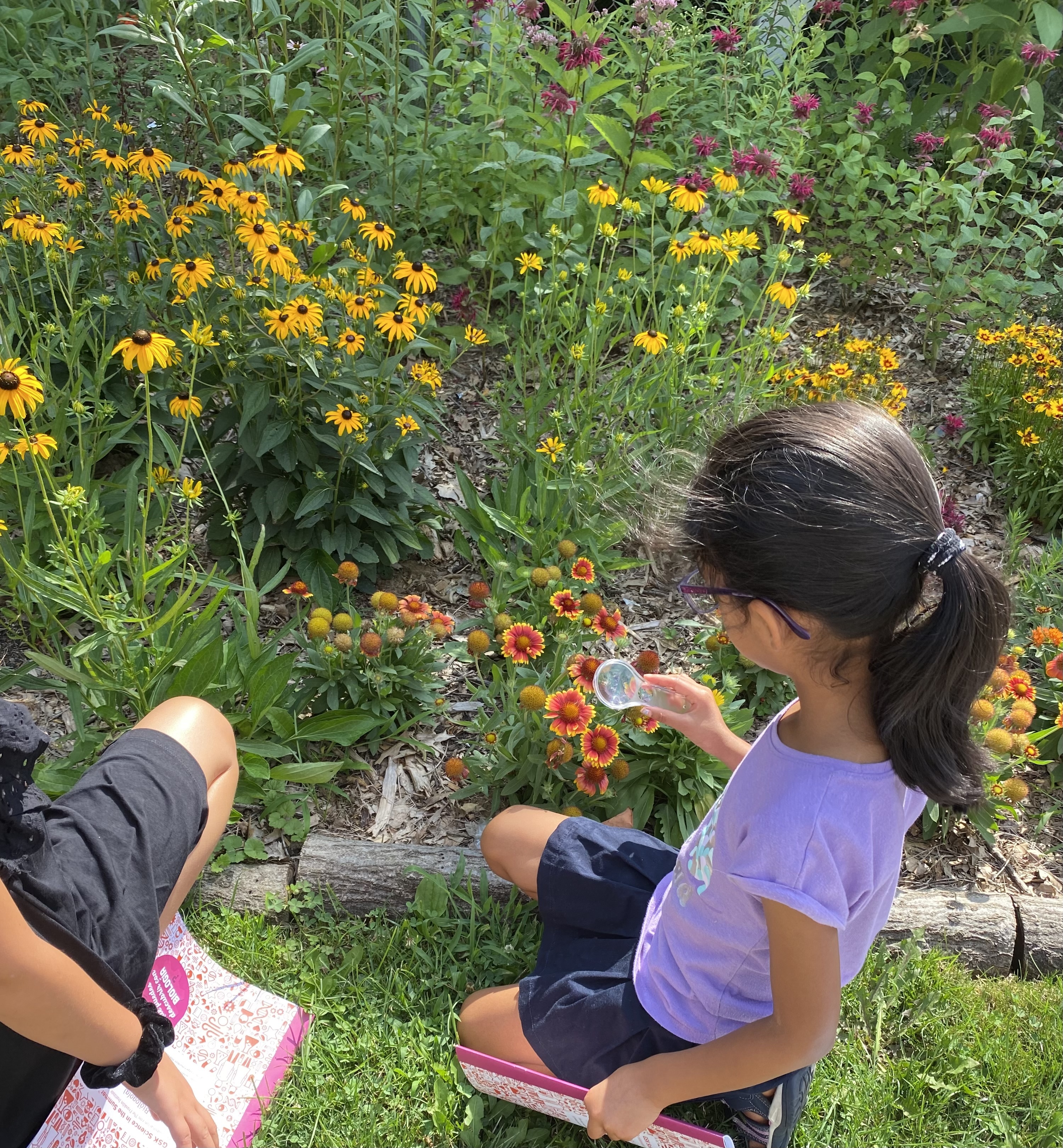 Q: What successes have you achieved?
A: We now have 7 gardens throughout this area because we've gotten requests, but we have reached out limit for right now. But many people have reached out and requested gardens. Our gardens are primarily public access in places like a local food bank, a senior center, our community park, and our local YMCA which is our largest one. We also have a garden at another park. WE try to place the gardens at places where people can access freely.
Q: What is your biggest challenge?
A: We have had very few challenges. It's just a matter of coordinating volunteers. I have been reaching out to local universities to see if they would like to use the gardens as learning labs, but I haven't had a great return on those efforts. I would like to leverage the gardens a little more because they have so much capacity for learning.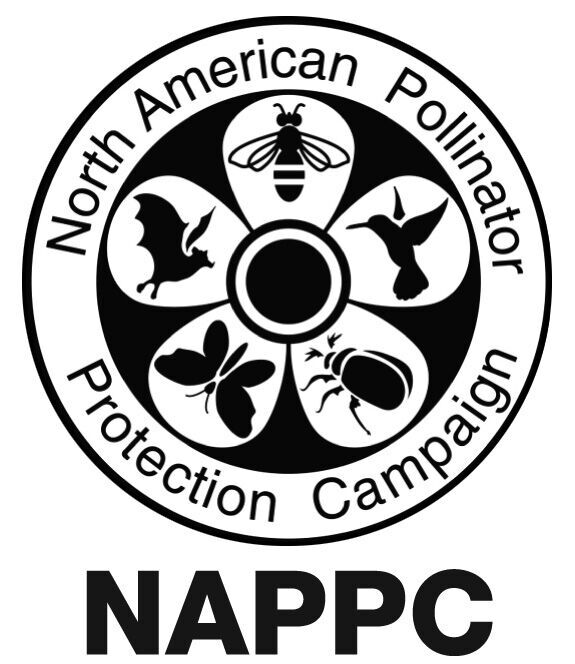 Alone no individual or entity can address all pollinator conservation needs, but through collaborative conservation we can and will make a difference for pollinators and the ecosystems they help support. Keep following our Pollinator Conservation Spotlight series to hear more inspiring pollinator conservation stories. Do you know a great project or organization that is addressing critical pollinator conservation topics and deserve their moment under the spotlight? Let us know!
Article contributed by Kiara Kamara, U.S. Fish and Wildlife Service for the NAPPC Pollinator Communications Taskforce.