This program has completed. You may use the below resources for educational purposes, but if you'd like to participate in an active project GO HERE!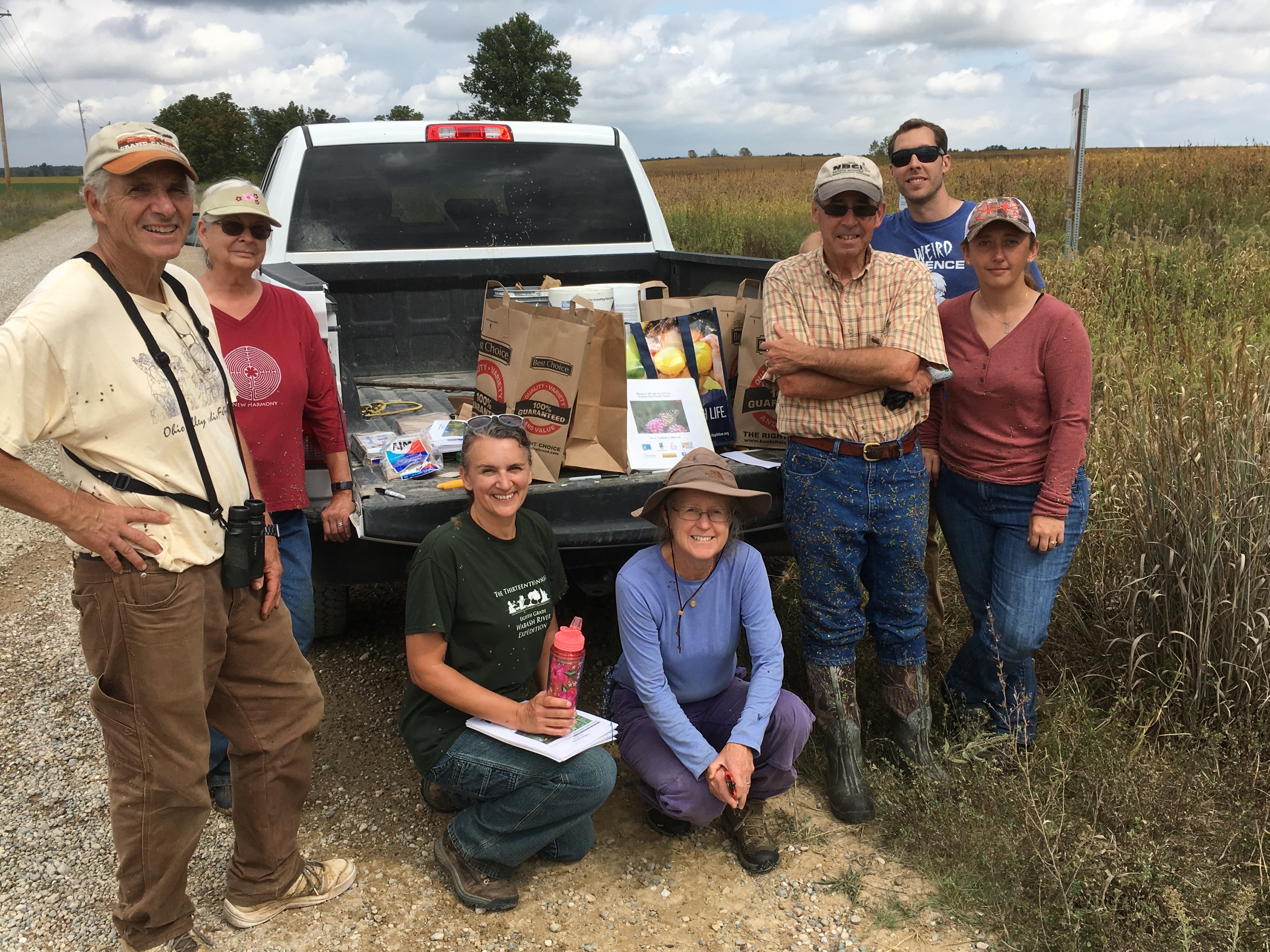 1.) Fill out our pre-assessment quiz.
This will help us understand your background with seed collection and allow us to see how effective our online training has been. This is not required, but we would appreciate it if you filled out both the pre-assessment and post-assessment forms during this training.
Pre-Assessment Quiz
2.) Watch our webinar(s)
If you are a volunteer wishing to join an established Collection Team, watch our new webinar focusing on what Volunteer Collectors need to know (found below). This will provide you with background information about MWAEBF, give you an overview of our collection protocol, and introduce you to our 20 target species.
If you are a volunteer Team Lead or Data Collector, please watch the webinar hosted by Annie Rzepka at Holden Arboretum and the webinar covering the Survey123 mobile app provided by CAST. The background and protocol sections of the volunteer collector webinar may also be useful for you, as it covers a program update and checking seed maturity in a bit more detail.
Please note: MWAEBF requires the involvement of people at 3 different levels of responsibility: State Lead, Team Lead, and Volunteer Seed Collector. Each of these roles serves a different function and these training resources are targeted at both our Team Leads and our Seed Collection Volunteers. Review the chart below to understand which parts of the training will be most relevant to you.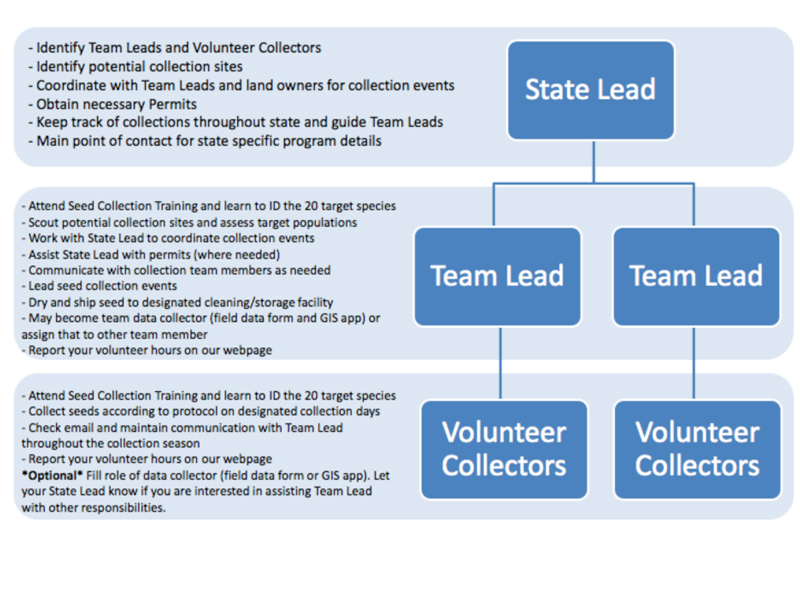 3.) Download and Review
Download and review the Monarch Wings Across the Eastern Broadleaf Forest Seed Collection Manual and Plant Profiles. These documents will give you details on the protocol and the forms needed to participate in this project, the contact information for your State Lead and other project partners, and the detailed plant identification information to help you learn to ID our target plants in the field.
Please note: The seed collection webinars give an overview of the protocol, but their main function is to introduce you to the 20 target species. It is important that anyone collecting seed for this project read and become familiar with the protocol and its appendices. One of the many strengths of this program is the consistent training across all states in order to meet our goal of completing successful and responsible seed collections. To achieve this goal it is crucial that each participant read the Seed Collection Manual.
4.) Fill out our post-assessment quiz
This will help us to understand how effective the training was. This is not required, but we would appreciate it if you filled out both the pre-assessment and post-assessment forms during this training.
Post-Assessment Quiz
5.) Turn in your Volunteer Waiver form
Please download the form below, complete it and email it to ab@pollinator.org.
Volunteer Form
6.) Fill out the contact form and become certified!
Please fill out the following form so that we can send your personalized certificate of completion for the online training and pass your information on to your State Lead for assignment to a Collection Team.
This step is crucial both to let us know you have completed the training module and to determine where you are located. If you do not fill out the contact form, we won't know which Collection Team is closest to where you live.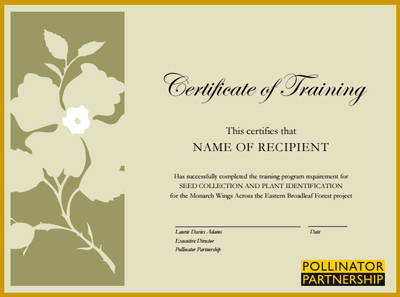 Training Webinars
If you are viewing this page in order to complete your online training and become a certified Monarch Wings Across the Eastern Broadleaf Forest volunteer seed collector, please see the following videos to complete Step 2 of the training module.
Project introduction and 20 target species for Volunteer Seed Collectors:
Project introduction and 20 target species for Team Leads & Data Collectors:

Please note: Some of the details have changed since this webinar was recorded, including:
Shipping - Updated information can be found on pages 15-17 of the Seed Collection Manual.
Photos – These can be taken and submitted within the Survey 123 app. For additional details see the Survey 123 tutorial video below and the seed collection protocol.
Appropriate collection locations – Seed of our target species with known wild provenance should receive priority, but collections of unknown origin will be accepted.
Survey 123 data collection tutorial video for data collectors:
Do you need to update your Survey 123 application or make sure you have the current Seed Collection Survey? If so, watch this tutorial from CAST.
If you need help troubleshooting the process you can email Brian Culpepper or click the title in the upper left-hand corner of the video and submit your comment on the video's YouTube page
Download Center
Whether you have already attended our in-person training or are looking into our online training option, this is the place to download the resources you'll need, to learn about collecting seed for monarchs.
Monarch Wings Across the Eastern Broadleaf Forest Seed Collection Manual
Plant Profiles for the 20 Target Species
Our In-Person Training Power Point Slides
20 Target Species with Bloom Chart
Illustrated Plant Structure Guide
This guide has been provided by UF/IFAS Center for Aquatic and Invasive Plants

Don't Forget to Log those volunteer hours!
Thank you for volunteering with the MWAEBF project! After each volunteer activity in which you participate, please fill out our volunteer hour tracking form for your state. These activities include: seed collection events, in-person trainings, seed cleaning events, scouting potential collection sites, or any other MWAEBF volunteer activity.
Filling out our form helps us show how many volunteer hours have gone into this project and is an important metric when presenting the success of our project to the National Fish and Wildlife Foundation. This information can also be useful in tracking your time and mileage for a tax write-off so make sure to keep your copy of the responses for your records! Your copy will be emailed to you after the fill out the online form.
Arkansas
Illinois
Indiana
Missouri
Ohio