You make the Difference!
1/3 of the food we eat comes from bees and other pollinators. During the winter of 2012-2013, 1/3 of all the honey bees died prematurely in the U.S. In addition, recent bumble bee deaths are under investigation. Improper application of pesticides is being blamed - that is something that we must all change.
So what can you do to help?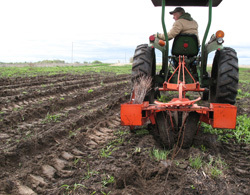 Be Smart about Pest Problems
Use Integrated Pest Management (IPM) around the home. Carefully diagnose your pest problem, and, before you apply a pesticide, make sure the pest population has reached a level where control is necessary.
Use proper application practices when applying any pesticide, this is very important in keeping pollinators (and people) safe.
If you choose to use a pesticide, read and follow ALL label directions carefully – use the proper rate (not more or less) at the right time for the correct target pests, and avoid re-applying unnecessarily.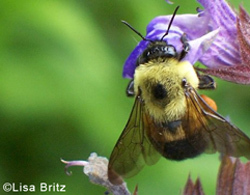 Donate
Donate today! We are working hard every day to help bees and all pollinators survive. Donations of any size really make a difference. Donate your time and resources to help the Pollinator Partnership's initiatives to help save pollinators.

Don't be afraid!
Don't be afraid when you see a bee - bees are your hard working friends. In fact, when you don't see bees around flowers that's when you should be concerned. Download our brochure for more of the facts, "Inviting Bees to Your Property: No Fear of Stings!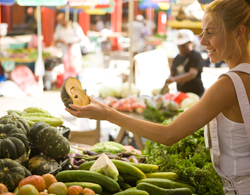 Transform your landscape
Let your voice be heard!
Buy locally produced or organic food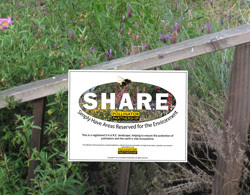 Sign up for S.H.A.R.E. (Simply Have Areas Reserved for the Environment)
Whether you are a farmer of many acres, land manager of a large tract of land, or a gardener with a small lot, you can increase the number of pollinators in your area by making conscious choices to include plants that provide essential habitat for bees, butterflies, moths, beetle, hummingbirds, and other pollinators. Register your S.H.A.R.E. landscape today!
Tell your friends
Forward this link via email
Share this on your social media networks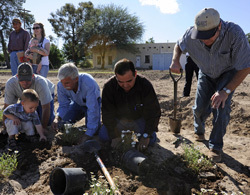 Join Us!
Volunteer! If you are interested in volunteering or interning for the Pollinator Partnership, click here
Share this on your social media networks
Join us:
Sign up for the Pollinator Action Team to learn about volunteer opportunities, research, events and much more!
THANK YOU for working with us to save the pollinators!