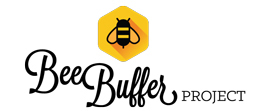 About
Let's help the honey bees.
The Bee Buffer Project is a Pollinator Partnership (P2) initiative, sponsored by the The Burt's Bees® Greater Good Foundation and is looking for partners: farmers, ranchers, foresters, and land managers and owners to take part in the U.S. Bee Buffer Project. We're creating a foraging habitat of pollen and nectar sources — land dedicated to honey bee health in California and North Carolina. We need your help.

BEES WILL BENEFIT.
Beekeepers name the leading cause for winter mortality of their honey bee colonies as starvation. In 2012-2013 the nationwide winter loss was a staggering 31.3%. Establishing dedicated Bee Buffers is critical to colony survival.
PARTICIPANTS BENEFIT.
The U.S. Bee Buffer Project has a lot to offer qualified participants:
Leadership participation in a nation-wide effort to support honey bees
The potential to enrich your soil, reduce an invasive plant species and enhance wildlife habitat
Free seeds and planting information
Supplemental pollination of all flowering plants
WHAT IS BEE BUFFER?
A Bee Buffer is a piece of land 0.25 to 3 acres in size that is planted with the U.S. Bee Buffer seed mix. Because beekeepers struggle to find foraging areas to feed their bees when they are not in pollination contracts, our planned network of dedicated buffers will support the industry and improve crops and flowering plants for miles around.
Requirements
WHAT DOES IT TAKE TO PARTICIPATE?
The lack of dedicated foraging habitat puts stress on honey bees and the cropping systems the bees pollinate. To support honey bee health and our own food systems, the U.S. Bee Buffer Project invites qualified applicants to grow honey bee forage habitats in agricultural areas.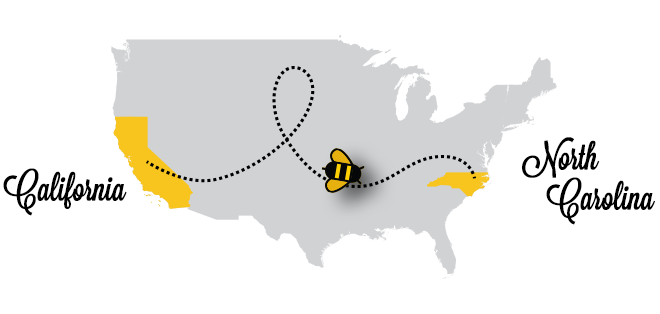 REQUIREMENTS
Residency in California or North Carolina
An active farm, ranch, or forest
The ability to plant 0.25 to 3 acres with the U.S. Bee Buffer seed mix
A commitment to keep your Bee Buffer in place for three years
A willingness to allow beekeepers and researchers on-site
An openness to providing written feedback on your Bee Buffer
Are you interested? The application deadline has passed and is now closed, but you can give us your email and we will be in touch with you when it reopens. Thank you!
Apply
The Bee Buffer application is now closed. Thank you for your interest and please check back in 2016 for the next chance to apply.