Giving Tuesday - Support the Farmers Who Support Bees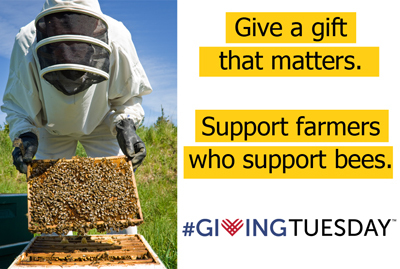 We have a day for giving thanks followed by two days for getting deals. Now we have Giving Tuesday, a global day dedicated to giving back. The Pollinator Partnership is participating in #GivingTuesday by asking for your support of the Bee Buffer Project beginning on Tuesday, December 1, 2015 ending on December 31, 2015. Our Giving Tuesday fundraising campaign will continue through the whole month of December. It's goal is to raise $10,000 to support farmers who support bees.
Give to U.S. Bee Buffers Project now:
About Bee Buffer Project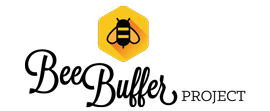 WHAT IS BEE BUFFER?
A Bee Buffer is a piece of land 0.25 to 3 acres in size that is planted with the U.S. Bee Buffer seed mix. Because beekeepers struggle to find foraging areas to feed their bees when they are not in pollination contracts, our planned network of dedicated buffers will support the industry and improve crops and flowering plants for miles around.

LET'S HELP THE HONEY BEES.
The Bee Buffer Project is a Pollinator Partnership (P2) initiative that works with farmers, ranchers, foresters, orchardists and beekeepers to help with criticial honey bee forage research. We're creating a foraging habitat of pollen and nectar sources — land dedicated to honey bee health in the U.S. We need your help.
Bees will benefit.
Beekeepers name the leading cause for winter mortality of their honey bee colonies as starvation. Establishing dedicated Bee Buffers is critical to colony survival.
PARTICIPANTS BENEFIT.
The U.S. Bee Buffer Project has a lot to offer qualified participants:
Leadership participation in a nation-wide effort to support honey bees
The potential to enrich your soil, reduce an invasive plant species and enhance wildlife habitat
Free seeds and planting information
Supplemental pollination of all flowering plants