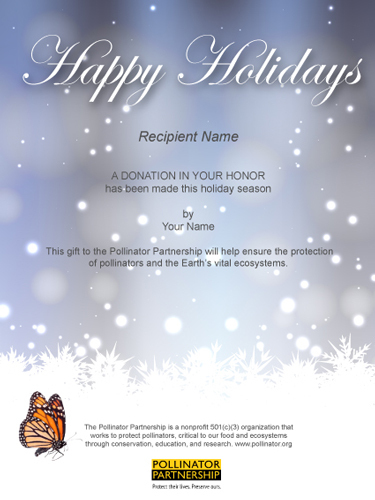 Give a gift in honor of a loved one this holiday season and we will email you this personalized Happy Holidays E-certificate. We will ensure your gift goes where it's needed most - helping to ensure the health and promotion of pollinators and their vital ecosystems.
Make your tax-deductible donation of $30 or more today to receive an e-certificate.
COMPLETE THE FORM AND THEN MAKE A CONTRIBUTION BELOW.
ATTENTION: Any certificates requested after 5:00 pm PDT on Thursday, December 20, will not be received before Christmas.
Please give $30 or more to receive your Happy Holidays E-Certficate.

The Pollinator Partnership is a nonprofit 501(c)(3) tax-exempt organization designated by the Internal Revenue Code.
We are a nonprofit 501(c)(3) tax-exempt organization of the Internal Revenue Code. Donations are tax-deductable as allowed by law. P2 does not sell or distribute any private information provided by donors. Read P2's Privacy Policy.
The Pollinator Partnership received the highest 4 Star Charity Rating for Charity Navigator.

The Pollinator Partnership's approved charity Combined Federal Campaign (CFC) number is: 10880
Donate by Mail
Download a donation form and send your contribution to:
Pollinator Partnership
423 Washington St., 5th Floor
San Francisco, CA 94111
Or
Fax to: (415) 362-1137.

If you have any questions about giving, please contact us:
Pollinator Partnership
423 Washington St, 5th Floor
San Francisco, CA 94111
Phone: 415-362-1137
Fax: 415-362-3070
info@pollinator.org