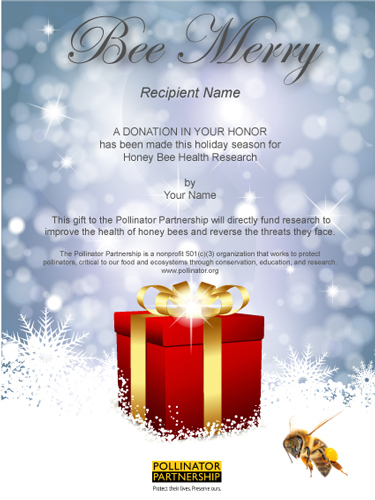 The recent mysterious disappearance of tens of thousands of honey bees, known as Colony Collapse Disorder (CCD), has confirmed that we don't know enough about bees and other pollinators. Your contribution toward Honey Bee Research will help support programs that are helping us solve this problem.

Give the gift of bee research and a loved one will feel that they have made a real difference for bees. When you make a tax-deductible donation of $30 or more, we'll e-mail you a full-color certificate for you to present to your friend or family member.
COMPLETE THE FORM AND THEN MAKE A CONTRIBUTION BELOW.
ATTENTION: Any certificates requested after 5:00 pm PDT on Thursday, December 20, will not be received before Christmas.
Please give $30 or more to receive your Bee Merry E-Certficate.

The Pollinator Partnership is a nonprofit 501(c)(3) tax-exempt organization designated by the Internal Revenue Code.
We are a nonprofit 501(c)(3) tax-exempt organization of the Internal Revenue Code. Donations are tax-deductable as allowed by law. P2 does not sell or distribute any private information provided by donors. Read P2's Privacy Policy.
The Pollinator Partnership received the highest 4 Star Charity Rating for Charity Navigator.

The Pollinator Partnership's approved charity Combined Federal Campaign (CFC) number is: 10880
Donate by Mail
Download a donation form and send your contribution to:
Pollinator Partnership
423 Washington St., 5th Floor
San Francisco, CA 94111
Or
Fax to: (415) 362-1137.

If you have any questions about giving, please contact us:
Pollinator Partnership
423 Washington St, 5th Floor
San Francisco, CA 94111
Phone: 415-362-1137
Fax: 415-362-3070
info@pollinator.org